Biotechnologist for a Week
In the video above, participants in BU's SummerLab program imagine they are employees in the research department of a biotechnology company. Photos by Cydney Scott
Most 16-year-olds' appreciation of jellyfish is colored by the creature's tendency to sting anything it comes in contact with, but a group of area high school students got over that this summer when they learned that a protein derived from jellyfish enables researchers to see processes that were previously invisible, such as the development of nerve cells in a brain or the spread of cancer from cell to cell.
That revelation was one of many for students enrolled in a weeklong intensive SummerLab session held at BU's Medical Campus last month. SummerLab, a nirvana for students with a passion for things having to do with proteins, purification, and pipettes, asks students to imagine that they work in the research department of a biotechnology company and throughout the week teaches the budding scientists how biotechnology harnesses the power of nature at the cellular level.
Program director Don DeRosa (SED'91,'01) says the program is designed to encourage high school students to consider careers in science, technology, engineering, and math (STEM), and to demonstrate that much of what is learned in the lab is applicable to other courses and subjects.
"We have a saying," says DeRosa, a School of Medicine research assistant professor in the department of biochemistry and a School of Education clinical assistant professor of curriculum and teaching. "'It's not just about teaching science; it's using science to teach thinking.' We really want students to get some taste of what it might be like to be in a laboratory and to find out what it's like to be able to work your way through a problem. Science is about knowing what to do when you don't have an answer."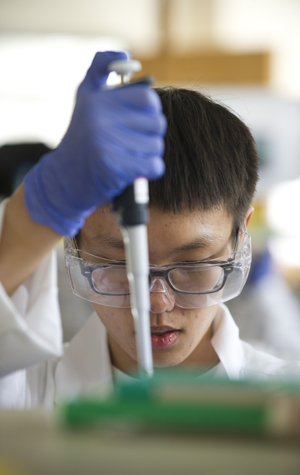 Programs like SummerLab are intended to bolster the uncertain future of the STEM fields. The National Math + Science Initiative, a group dedicated to improving student performance in STEM fields that is funded by private donors, including the Bill & Melinda Gates Foundation and the ExxonMobil Corporation, notes that US students recently finished 25th in math and 17th in science when compared with students in 31 other countries. The same report found that only 30 percent of US high school students are prepared for college-level science.
SummerLab is run through MED's CityLab, a program offering state-of-the-art facilities and workshops to educational groups, mostly from around Massachusetts (the program also visits schools in its MobileLab bus). DeRosa says roughly one quarter of CityLab's attendees come from underserved populations, which often lack access to the lessons or facilities that CityLab delivers.
Once students sign up for SummerLab, they can choose from one of five sessions, either on the Medical Campus or at secondary schools in Braintree and Waltham (the last session is being held this week). Depending on the week, students will either purify protein or participate in a mock clinical trial, where they test drugs for sickle cell anemia.
In the purified protein session, students are asked to imagine that they work for a biotechnology company that needs to produce and market green fluorescent protein (GFP). The company has copies of the gene that encodes the GFP, and the students must figure out how to insert the gene into E. coli bacteria.
The first day of the program, students get a crash course in basic laboratory skills, safety procedures, and how to keep a scientific notebook, with much help from DeRosa and Crystal Shah (CAS'14, SED'14), who hopes to one day become a biology teacher. Students look the part, too, in white lab coats, blue latex gloves, and plastic safety glasses.
The students learn about the magic of GFP, which was discovered by Osamu Shimomura (Hon.'10), a MED professor emeritus of physiology, whose finding was rewarded with a Nobel Prize in chemistry in 2008. The protein glows green when exposed to ultraviolet light, making it an ideal marker to help researchers study internal biological processes. Research made possible by GFP's unusual powers has helped scientists better understand brain diseases like Alzheimer's, improve cancer diagnosis and treatment, and detect poisons in drinking water. While GFP can be harvested from the jellyfish Aequoria victoria, the demand for the protein by researchers is so great that it must be grown in massive quantities.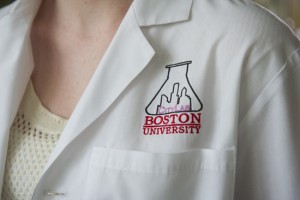 At SummerLab, the "biotechnologists" divide into three groups, and each group learns a technique, such as bacterial transformation, cell lysis, or protein purification. The next morning, the students are assigned to teams of three, with a specialist in each technique, and work together to purify the protein. The program ends with the students presenting their findings in a poster session.
The excitement in the lab can be seen as one student elbows his teammate to hurry up with lunch so they can get back to their lab stations. James Bauer, a 14-year-old from nearby Arlington High School, says he had two reasons for signing up for SummerLab: he was curious to learn how scientists from large pharmaceutical companies work, and he wanted work in a real lab setting. "This isn't the fake stuff, you're using real E.coli bacteria," Bauer says. "This is the first time I've done a real experiment like this, because so far in my high school biology class we've only boiled water."
This BU Today story was written by Amy Laskowski. Rich Barlow contributed reporting to this story.