News
2021 APTA MA AWARD WINNER
Clinical Research Award: Joshua Stefanik, MSPT, PhD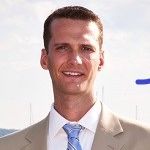 Congratulations to Dr. Joshua Stefanik, an Adjunct Assistant Professor in the Section of Rheumatology as a recipient of the Clinical Research Award from the American Physical Therapy Association, Massachusetts Chapter.
APTA Massachusetts is a chapter of the American Physical Therapy Association. The purpose of this award is to give public recognition to APTA MA physical therapists and physical therapist assistant members who are outstanding clinicians, and who have made significant contributions to the profession of physical therapy through the implementation and reporting of quality research.
Dr. Stefanik is a full-time tenure track Assistant Professor of Physical Therapy, Movement and Rehabilitation Sciences at Northeastern University. He is a clinician-scientist who has had tremendous success as a clinical researcher. He has dedicated his research career to investigations related to the epidemiology, mechanisms, biomechanics, and treatments for knee osteoarthritis. Knee osteoarthritis is a serious public health problem, and his work aims to improve the lives of individuals with osteoarthritis by improving their pain and increasing their function.
Dr. Stefanik has received continuous peer reviewed funding (~$1.6 million) from both the NIH and Professional Associations to support his research. He has been extremely productive, with 49 peer-reviewed publications in high impact journals and 64 conference abstract presentations at national and international conferences. In addition to his own research, he is dedicated to training future physical therapists and clinician scientists. He has mentored over 20 Undergraduate, Masters, DPT, and PhD students as well as 4 post-doctoral fellows.
Congratulations, Josh!