Actionable Lung Cell Responses to SARS-CoV-2 Infection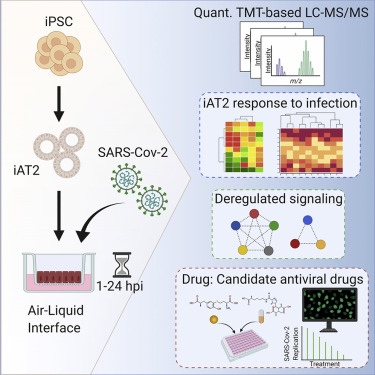 Teams from Pulmonary Center Faculty members Andrew Wilson and Darrell Kotton (and collaborators) recently published exciting new findings about how alveolar epithelial type 2 cells respond to SARS-CoV-2 infection!
"Briefly, we found that there are changes to cellular proteins (the proteome and phosphoproteome) that occur as soon as 1 hour after infection with SARS-CoV-2. We defined those changes and how they evolve over time following infection and demonstrate a variety of pathways that are perturbed in this process. Those pathways represent potential drug targets that could be useful for drug development."
-Andrew Wilson, M.D.
For more information, please see the following links:
Press Releases:
MINT – Dec. 13th, 2020
TECHNOLOGY NETWORKS – Dec. 3rd, 2020
Full Article:
Actionable Cytopathogenic Host Responses of Human Alveolar Type 2 Cells to SARS-CoV-2