Celebrating Dr. Jerry Brody
This year, we kick off fund-raising efforts for the Jerry Brody Endowment. The largest and most significant endowment for the Pulmonary Center will be named for Dr. Brody, who helped establish the Pulmonary Center at BUSM, was its longest serving Director, and built it into the world-leading research and training enterprise that it is today. This endowment will support faculty recruitment, research activities, training needs, equipment and infrastructure improvements, visits from outside scientists, and (if sufficient funds are raised) establishment of a Brody Professorship. The Jerry Brody lectureship was our earliest effort to commemorate Dr. Brody, and this endowment ensures that the Brody lectureship will continue forever. Please help us celebrate Dr. Brody's legacy and demonstrate your support for him and for pulmonary progress by donating to the Jerry Brody Endowment!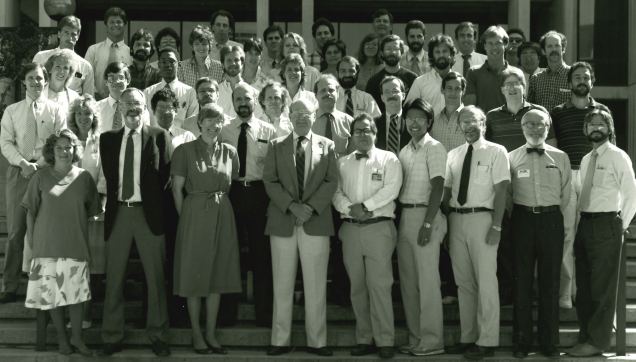 The picture shows Pulmonary Center members in the mid-1980s, shortly after Dr. Brody became Director. That's Jerry up front in the short sleeves and tie. Times have changed, but we are still hard at working fighting ignorance and illness! By supporting our Pulmonary Center mission, you and we partner together to advance science, improve medicine, and produce next generations of leaders in pulmonary research, education, and practice. Thank you for helping us to do all this while celebrating the enduring legacy of Dr. Jerry Brody.