Environment
More Info About Boston University
The following links connect to other BU sites that may be of interest…
The Pulmonary Center is a research unit at BUSM that includes diverse investigators working together to elucidate the biology of healthy lungs, discover mechanisms responsible for pulmonary disease, and translate these discoveries to clinical break-throughs.
The Division of Pulmonary, Allergy, Sleep, and Critical Care Medicine integrates clinical medicine with basic and translational research to provide an exceptional environment for education, discovery, and clinical care relating to these sub-specialties.
Boston University was founded in 1839 and includes ~32,000 students and ~3800 faculty across 2 major campuses within the city of Boston.
The Boston University School of Medicine was founded in 1873, the first coeducational medical school in the world.
Boston Medical Center is the largest safety net hospital in New England, a not-for-profit medical center with the motto of "Exceptional Care Without Exception."
The Department of Medicine is dedicated to Excellence, Health Equity, Innovation, and Communication, in research education, and clinical care.
The Department of Microbiology emphasizes research and training focusing on the molecular mechanisms underlying microbial infection and the host immune response.
The Department of Biochemistry uses the latest technologies and experimental systems to address the molecular, cellular, and genetic mechanisms of biological processes, including many that relate to human disease.
The National Emerging Infectious Disease Laboratory (NEIDL, spoken as "the needle") is a 194,000 square foot research facility being built for the development of diagnostics, vaccines, and therapeutics to combat emerging and re-emerging infectious diseases.
WBUR is the BU radio station, Boston's NPR news source, and a source of 25 hours of original news and programming for public radio stations each week.
Boston's South End neighborhood is where we are located, and is filled with many things to do including great restaurants and clubs.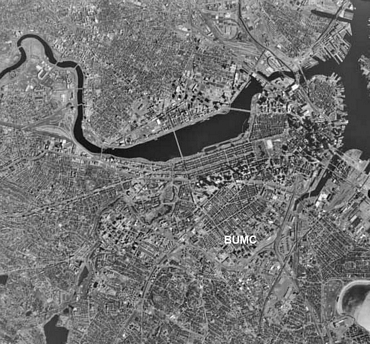 Campus locations are depicted on the BUMC map.
Recent developments are communicated with BUMC News.
A timeline with BU related interests is available at BU Timeline.
Tweest about Pulmonary Center happenings are available from @BUPulmonary.
Right: Aerial view of Boston, MA (1995), from the U.S. Geological Survey, with the Boston University Medical Campus (BUMC) indicated.