Hem Onc New Faculty Hires
We are happy to announce that two new faculty members have accepted positions within the Section of Hematology and Medical Oncology:
Emily Mann, MD has accepted a position as a heme/onc hospitalist, beginning in July of 2023. Dr. Mann received her undergraduate degree in cell biology from Boston University, where she also completed her medical education and a residency in internal medicine. She has experience in both basic and clinical research, is co-chair of the Women in Internal Medicine Committee for the Boston University residency program, works as a peer advisor for BUSM, and is a co-host of a podcast for and about women in medicine. Her numerous achievements and outstanding clinical skills led to her selection as one of the Chief Residents for the BUSM internal medicine program this year. We are excited to have her on board for next year!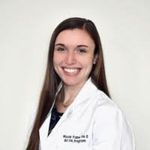 Nicole Faber, PA has accepted a position as an APP, beginning in February of 2023. Nicole received an undergraduate degree in behavioral neuroscience from Northeastern University, where she won a Dean's Scholarship and was selected to the honor society. She has prior research experience in neurobiology, and has also particcpated in the St. Stephen's Youth Program as a Youth Learning Center Mentor. She is currently completing the Physician Assistant program at Boston University School of Medicine, and received rave reviews from everyone who worked with her. We are thrilled that she will be joining us!