Guillaume Andrieu PhD and Jordan Shafran report research on new mechanisms to develop immunotherapy for triple negative breast cancer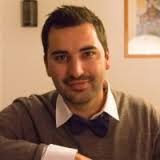 The research team of Andrieu and Shafran, directed by Gerald Denis PhD, in the BU-BMC Cancer Center, has just reported that "BET bromodomain targeting suppresses the PD-1/PD-L1 pathway in triple-negative breast cancer and elicits anti-tumor immune response", which appeared today in Cell Reports 'Sneak Peek' https://papers.ssrn.com/sol3/papers.cfm?abstract_id=3260754
The mechanisms that control the expression of immune inhibitory molecules in diverse cancer types, such as PD-L1, and host immune receptors such as PD-1 on T cells in the tumor microenvironment, are being investigated urgently. New tools to inhibit these checkpoints show great promise to unleash anti-tumor immunity, and results of recent cancer clinical trials are encouraging. Immunotherapy as an exciting and evolving field was recognized on October 1, 2018, with the award of the Nobel Prize in Medicine to Honjo and Allison. On the other hand, clinical cases in which immune therapy approaches fail are poorly understood, and failure is common enough for certain cancer types to have caused widespread frustration in clinical trials. Given the limited therapeutic options available to patients with triple negative breast cancer, new modalities are urgently needed, and promising results from new immunotherapy clinical trials could quickly reshape the treatment of this subtype of breast cancer.
Here, Andrieu, Shafran and Denis show that inhibition of the BET bromodomain protein family can reduce PD-L1 expression in cellular models of triple negative breast cancer. It is also highly innovative and significant that they show these same pathways control PD-1 expression in human primary T cells, which holds out the possibility that multiple relevant cells in the tumor microenvironment could be targeted by these approaches. They are continuing this research, with support from the National Cancer Institute with a new grant, called "BET bromodomain proteins and the immunometabolism of triple negative breast cancer" (R01 CA222170).
Congratulations to Umit Tapan, MD, David Hughes, PharmD, BCOP, Jasmine Patel, PharmD, BCOP, and Bhavesh Shah, RPh, BCOP, who received a grant for $250,000 through Pfizer for "Improving Biomarker Driven Precision Therapy in NSCLC: The Importance of an Integrated Multidisciplinary Approach" last week. This was part of a competitive grant process through Pfizer that was awarded to only two centers across the United States. This initiative is comprised of an education series over the next two years, primarily focused on addressing racial and socioeconomic disparities that impede access to healthcare. It will focus on three key areas:
Best practices for optimal biomarker testing in NSCLC and the need to understand barriers impeding testing
Understanding new/novel targeted therapies for NSCLC including clinical data to direct treatment decisions
Management of treatment-related toxicities that limit clinical benefit and may negatively impact quality of life
The unique aspects of BU/BMC's patient population, multi-disciplinary thoracic oncology team (comprised of oncologists, molecular pathologists, interventional radiologists, pharmacists), and our embedded specialty pharmacy services will provide realistic approaches to optimal management for metastatic NSCLC.