Fellowship Match Results for Appointment Year 2022
We are excited to share the results of our 2021 Match and look forward to working with all three of these impressive young doctors!

Lindsey Hildebrand, MD
Boston Medical Center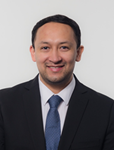 Juan Chango, MD
University of Connecticut


Maya Srinivasan, MD
SUNY Downstate Medical Center

Thank you to everyone who participated in interviews and the ranking meeting this season. Your help and hard work is sincerely appreciated.