Welcome Alexandra Hern, BSN, RN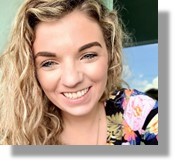 We are excited to announce that Alexandra Hern, BSN, RN, has joined the Cancer & Hematology Clinical Research Program at Boston Medical Center in the role of Oncology Clinical Research Nurse. Alex holds a Bachelor of Sociology from Suffolk University and received her Bachelor of Science in Nursing from Villanova University in July 2020, and Massachusetts Licensure in 2021. She previously worked at Dana Farber Cancer Institute as a clinical administrative support specialist
Alex will be training alongside Anthony Shelton and Mary Ellen Migre. A determination of which disease groups for which she will be responsible will occur at a future timepoint. Please welcome Alex to our team!