Welcome Geoff Oxnard, MD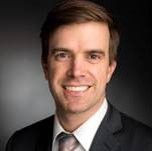 We are delighted this week to welcome Geoff Oxnard, MD, to the section of Hematology and Medical Oncology. Dr Oxnard is an internationally recognized thoracic oncologist, who has focused his research efforts on lung cancer targeted therapies and novel diagnostics. He will be joining our thoracic oncology group on a part-time basis, while continuing in his current position at Foundation Medicine, Inc.
Dr Oxnard received his undergraduate degree in chemistry from Harvard University and his medical degree from the University of Chicago-Pritzker School of Medicine, where he graduated with honors. He completed his residency in Internal Medicine at Massachusetts General Hospital and his fellowship in Medical Oncology at Memorial Sloan-Kettering Cancer Center. He joined the faculty of Dana-Farber Cancer Institute, Harvard Medical School in 2011 where he was a member of the Lowe Center for Thoracic Oncology, rising to the rank of Associate Professor of Medicine. In June 2020, he was recruited to Foundation Medicine Inc., where he currently serves as Vice President, Global Medical Lead of Liquid Franchise, and leads the development of circulating tumor DNA (ctDNA) assays to advance cancer therapy.
Dr. Oxnard has published extensively on resistance mechanisms to tyrosine kinase inhibitors in lung cancer, and has gained prominence for his work on liquid biopsies to guide the use of targeted therapies. Among his many accomplishments, he is co-first author of a widely cited study demonstrating efficacy of selpercatinib, a RET inhibitor, in RET fusion positive non-small cell lung cancer, published in the New England Journal of Medicine in 2020. He has been the recipient of numerous research grants, including a Damon Runyon Clinical Investigator Award and both R21 and R01 grants from the NIH.
We are excited to have Dr. Oxnard join us and look forward to working with him as we advance both our clinical and research missions in the section!