Welcome Nina Modanlo to the Translational Research Core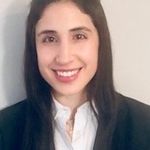 Please join us in welcoming Nina Modanlo to the Translational Research Core! Nina comes to us from Johns Hopkins University where she earned a BA in Public Health and Spanish in 2017 as well as an MHS in Biochemistry and Molecular Biology in 2019. Nina is currently applying to medical school with hopes of ultimately pursuing oncology. Nina is deeply passionate about combating health inequities by addressing sociocultural factors in patient care, especially among medically underserved populations. During college, she volunteered with Health Leads at a primary care clinic, where she engaged with patients living in disenfranchised communities, and travelled to rural Guatemala one summer to undertake a research study investigating their community health infrastructure with a focus on reproductive care services. She also supported a clinical study investigating the neuropathology of Alzheimer's disease at the National Institute on Aging. Outside of research/academia, Nina enjoys working out, frequenting local coffee shops, and has spent much of quarantine mastering the game of backgammon! Nina is originally from Washington, D.C. and grew up learning more about her Iranian-American heritage.
Nina will be starting in her role as a Research Assistant on Nov. 2. We are thrilled to have Nina join the Section!