Welcome Claire Smith, MD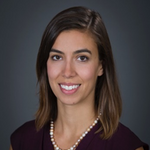 We are delighted to welcome Claire Smith, MD, to our section as a hospitalist and an Assistant Professor of Medicine at Boston University School of Medicine.
Claire started with us yesterday on September 1st. Recently, she completed her first year of fellowship at Oregon Health and Sciences University this summer. She received her undergraduate degree from the University of Washington and her medical degree from Duke University, where she also completed her residency. While at Duke, she was the recipient of several research awards and scholarships, and recently published a study examining national trends in end of life care at the Veterans Health Administration. Following her work as a hospitalist in our section, Dr. Smith will be joining our fellowship program as a second year fellow in July, 2021.
Please join us in welcoming her to our team!