Recent Student Defenses Nov 2019
The Graduate Program in Genetics & Genomics is proud to have 2 students successfully defend their thesis in the month of November 2019! A huge congratulations goes to both of them and the GPGG wishes them the best of luck on their job hunt!
Barry K. Horne Jr successfully defended his dissertation thesis "The Roles of Interferon Regulatory Factor 5 and Interleukin-1 Receptor-Associated Kinase 4 in Lupus Pathogenesis" on Nov 18, 2019. Barry was a member of the Bonegio laboratory at the Boston University School of Medicine (BUSM), and during his third and fourth years at BUSM he also completed a two year academic "Immunology Training Program" (ITP) Predoctoral Fellowship. Barry's doctoral research focused on the contributions of two suspect genes to the pathogenesis of the autoimmune disease Lupus.
Barry is passionate about science in general, and he greatly enjoys teaching, advocacy, and policy. His long-term goal is to take the scientific knowledge, critical thinking abilities, and multiple communication skills that he acquired while working on his PhD and translate them into a career in either education, politics / science policy, scientific public outreach, or science advocacy.
BU Profile: https://profiles.bu.edu/Barry.Horne
LinkedIn:     https://www.linkedin.com/in/barry-k-horne-jr-24700457/
ORCID ID: 0000-0003-2770-6719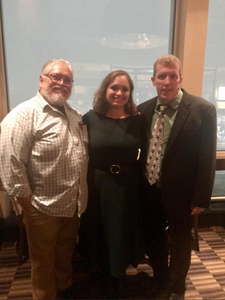 Jiayi Wu Cox presented on "Genetic and Environmental Prediction of Opioid Cessation Using Machine Learning, GWAS, and a Mouse Model" on Nov 22, 2019.
Jiayi Cox defended her thesis titled "Genetic and Environmental Prediction of Opioid Cessation Using Machine Learning, GWAS, and a Mouse Model" on Nov 22, 2019, after 4 years of her Ph. D research.  Jiayi was a founder of BU MED Campus Biomedical Machine Learning Community and the student representative of the section of Biomedical Genetics at Boston University. She received a full scholarship from Transformative Training Program in Addiction Science (TTPAS), this program prepares doctoral students to apply diverse approaches to addiction research using both population genetics and animal model. Jiayi did two internships doing her doctoral research, one at Biogen as a statistical geneticist intern and one at an MIT startup as a machine learning engineer intern.
Jiayi loves exploring different machine learning approaches and analyzing various data to tell stories. She currently works at Kintai Therapeutics as a machine learning scientist.