Current Students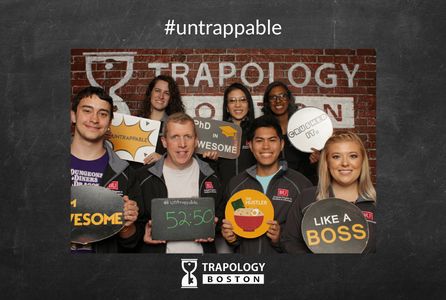 The students of the GPGG are a diverse group.  Each has a strong background in research and helps support the strong community and learning environment.
Stefanie Chan (Perissi Lab)
Stefanie is a sixth-year GPGG PhD student with the Perissi laboratory in the Department of Surgical Research. The Petrocca laboratory is currently focused on advancing precision medicine therapies for triple-negative breast cancer (TNBC; the most aggressive subtype of breast cancer) into clinical testing. The primary goal of this program is to identify selective vulnerabilities linked to defined genetic and epigenetic states in distinct TNBC subtypes, and prioritize the highest-value targets for downstream drug development in select subgroups of TNBC patients. The lab is also interested in dissecting the molecular basis behind TNBC's exceptional response and resistance to clinically available drugs, particularly 2nd-generation proteasome inhibitors and nuclear export drugs.
Gian Sepulveda (Grishok Lab)
Gian is a third-year GPGG PhD student in the lab of Dr. All Grishok. The Grishok lab is currently working on MYC regulation in the context of triple negative breast cancer, as well as the epigenetic regulation of the histone 3 lysine 79 methyltransferase DOT1L. Gian's project focuses on a putative MYC cleavage that might be essential in MYC-target gene regulation. Preliminary data suggests that MYC may be cleaved to either a 27 or 35 kDa protein. His plans after completion of the PhD are toward science communication and teaching, with a particular interest in journal editing.
George Chen (Dries Lab)
George is a second year student in GPGG working in the lab of Ruben Dries in the department of Hematology Oncology. The lab focuses on spatial transcriptomics and how this technology can be applied to understand the mechanisms and heterogeneity of triple negative breast cancer. In his free time, George enjoys listening to music and drawing.
David Engel (Waxman Lab)
David is a second year PiBS student that just joined the GPGG program. He is a member of Dr. Waxman's lab on the Charles River Campus. David's project is focused on the effects of long term exposure to xenobiotics on the epigenetic and expression landscape of PCGs and lncRNAs. His hobbies include creating things through drawing, digital painting, and wood carving. At the same time, David likes pushing his physical limits with boxing, enjoying a good sparring match, and working out.
Taylor Matte (Hawkins Lab)
Taylor is a second year student in GPGG, working in Dr. Finn Hawkins's lab at the Center for Regenerative Medicine. Taylor seeks to combine experimental and computational approaches to study lung development and disease in a to-be-determined project.  Outside of the lab, Taylor loves planning parties, Björk, and sensory deprivation tanks.
Megan Snyder (Sherr Lab)
Megan is a second-year GPGG PhD student in the laboratory of Dr. David Sherr. The primary focus of the Sherr lab is to understand the immunological and molecular mechanisms that influence cancer risk through the interactions between the aryl hydrocarbon receptor (AHR) and both environmental and endogenous ligands. Her project involves understanding the role of the AHR in lung cancer by examining the AHR amplification loop's effect on tumorigenesis and immunosuppression. This research, in conjunction with data from the Precancer Genome Atlas, aims to identify a point prior to tumor development when AHR inhibitors can be administered to intercept and prevent cancer. Megan's broader interests include gene therapy, translational research, and a passion for developing novel treatments that utilize personalized and preventative medicine.
Dylan Steiner (Lenburg Lab)
Dylan is a first year student in GPGG, working in the lab of Avrum Spira and Marc Lenburg in the Section of Computational Biomedicine. Dylan is interested in lung cancer biology, premalignant lesions, and early detection of lung cancer. Outside of the lab, Dylan enjoys live music, surfing (when in his home state of California) and nurturing his houseplants.