1-Year Geriatric Medicine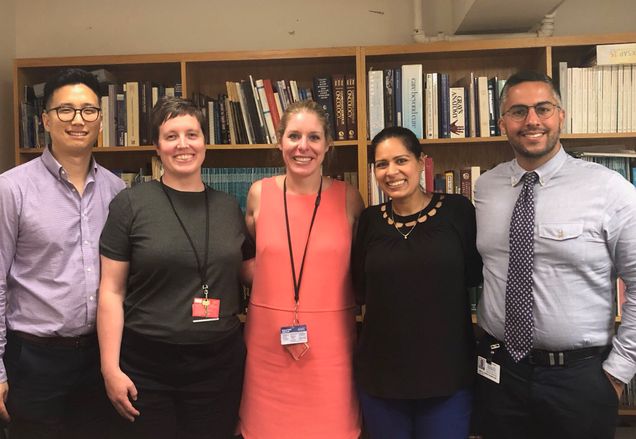 The Geriatric Medicine Fellowship is extremely well-rounded, exposing fellows to an incredible underserved and diverse populations alongside faculty mentors and interprofessional team members that specialize in different areas of Geriatrics.
Clinical Experience
Longitudinal Experiences: A very unique aspect of our fellowship is that our fellows serve as primary care providers to patients in three longitudinal continuity experiences throughout their first year of fellowship, regardless of block rotation. Fellows have continuity patient panels in our Home Care, Ambulatory Clinic and Nursing Home practices and are paired 1:1 with a preceptor for the entirety of the academic year in each of these settings. This helps to simulate what a future career would look like in these common areas of practice. A typical week for a fellow is as follows, with Tuesday reserved for longitudinal practices and part of Friday for educational sessions:
| | | | | |
| --- | --- | --- | --- | --- |
| Monday | Tuesday | Wednesday | Thursday | Friday |
| Block Rotation | Alternating Home Visits & Nursing Home | Block Rotation | Block Rotation | Educational Didactics |
| Block Rotation | Ambulatory Clinic | Block Rotation | Block Rotation | Block Rotation |
Home Care Program
Established in 1875, BMC's Geriatrics Home Care Program is the oldest, continuously operating in-home medical service in the United States, delivering care to those who cannot leave their homes for treatment. Our Home Care Program provides primary medical care to approximately 500 frail, home-bound and isolated older adults in the neighborhoods of Boston. The average age of our patients is 80 years, with a diverse population including 60% under-represented minorities, 25% of whom do not speak English as their primary language. Fellows have a longitudinal experience providing primary medical care to a panel of approximately 16 patients during their fellowship.
The home care program also provides opportunities for fellows to instruct Boston University Chobanian & Avedisian School of Medicine students to further develop bedside teaching skills. Fellows work closely with an interprofessional team of providers including physicians, nurse case managers, nurse practitioners pharmacists, social workers, and community-based allied health care providers (e.g. visiting nurses, physical therapists, home hospice, elder service agencies). Through these experiences, fellows learn how these community resources are both accessed and reimbursed.
Ambulatory Geriatrics Clinic
The BMC Geriatrics Ambulatory Practice provides primary care for approximately 1500 older adults with multiple chronic comorbid conditions and functional limitations who are able to travel to the clinic. The clinic compromises of an interprofessional team of geriatricians, gerontologically-prepared nurses, medical assistants, a pharmacist, geriatric psychiatrist, registered dietitian and social worker. Fellows participate in a weekly clinic, following a longitudinal panel of patients as well as learning skills around transitions of care and urgent care for older adults.
Nursing Home Program
One of our seven multi-level, community-based, long-term care facilities in the city of Boston serves as the third clinical site for fellows to provide primary longitudinal and subacute care in a nursing home setting. Each fellow provides primary care to a panel of 10-15 residents in one facility under the supervision of one longitudinal faculty physician throughout the year. Fellows additionally work collaboratively with one BU Geriatrics nurse practitioner and other members of the nursing home's interprofessional care team.
Monthly Clinical Rotations: Fellows rotate through nine individual month-long rotations in three sites of care for their block rotations. Fellows engage in these experiences on Mondays, Wednesdays and Thursdays, with a new rotation starting at the first day of each calendar month. The entire month of July is dedicated to orientation to clinical sites, longitudinal experiences and learning core Geriatrics topics during our Core Geriatrics Content Bootcamp. All fellows also have one month dedicated to an elective experience that can be research or clinical based, or a combination of the two, depending on each fellow's individual goals.
An example of our fellows' monthly block rotation schedule is as follows: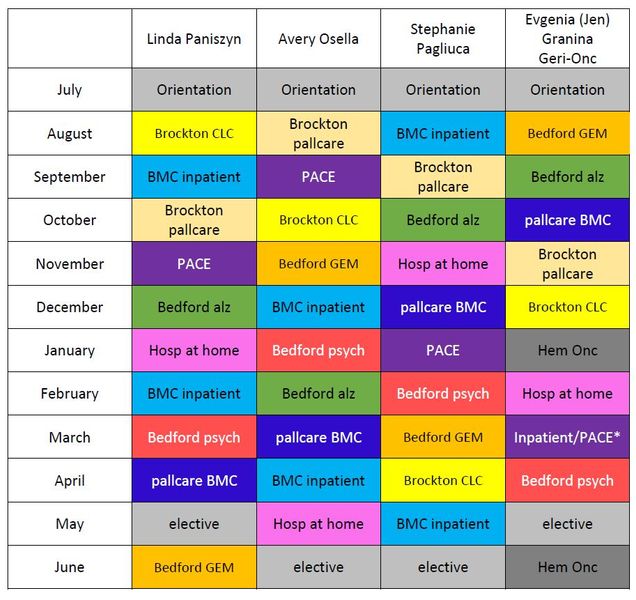 The block rotations that fellows rotate through are as follows:
Geriatrics Inpatient Service
Geriatrics Fellows rotate through two separate one-month acute care experiences on the BMC Geriatrics Inpatient Service. All patients within our practice, regardless of site of care, are admitted to this service when requiring acute inpatient care. The team is comprised of a BU Geriatrics attending physician, Internal Medicine residents, third and fourth year medical students, a clinical pharmacist, case management team and social work services. During this rotation, fellows gain experience in leading a team caring for medically ill, complex older adults and have a lead role in educating medical students and residents about core inpatient geriatric topics.
Program of All-Inclusive Care for the Elderly (PACE)
PACE (Program of All-Inclusive Care for the Elderly) is a national program for adults age 55 and older who are nursing home certified and living in the community. PACE provides fully integrated, comprehensive, team-based managed care with Medicaid and Medicare financing to keep vulnerable older adults safe and functioning in their homes and communities. Fellows rotate through the Upham's Corner PACE Center, where participants can access adult day social services and a full service medical clinic including primary care, nursing, social work, rehab staff and nutrition. The team also provides care at home and follows participants across all care settings (home, hospital, nursing facility).
During this one-month rotation, fellows are under the supervision of a geriatrics trained PACE attending physician who is also a member of BU faculty. They have the opportunity to complete in-home safety and functional assessments with PACE rehab staff, as well as follow and manage patients at the PACE Center. Fellows participate in weekly interdisciplinary meetings as an active member of the PACE team.
Palliative Care Services
Geriatric Fellows rotate through two unique one-month Palliative Care experiences, at BMC and at the VA Boston Health Care Systems Brockton campus.
The BMC Palliative Care Service has provided interprofessional palliative care consultative services for inpatients and their families at Boston Medical Center since September 2007. Patients with a wide range of advanced life-limiting illnesses are seen, including cancer, dementia, heart failure, respiratory failure and stroke. During this rotations, fellows work alongside Palliative Care trained attending physicians, nurse practitioners, and social workers to provide comprehensive consultation in the management of pain, end-of-life related symptoms, and discussions of goals of care. Psychosocial issues, spiritual concerns, and clarifying practical issues about plans of care are also addressed in an interdisciplinary manner. In addition, fellows have the opportunity to spend time in the outpatient palliative care clinic at BMC.
The Brockton VA Palliative care rotation provides care to older adult veterans admitted to the hospice and palliative care unit. This team consists of an attending physician, nurse practitioner, social worker, nurse manager, chaplain, speech pathologist, pharmacist, nutritionist, recreational therapist, and kinesio-therapist. The hospice and palliative care unit accepts patients for both end of life care and for ongoing symptom management and support during palliative chemotherapy or other supportive care. During this rotation the fellow will learn how to run a family meeting, run an IDT meeting and develop a comprehensive care plan for patients' nearing the end of their lives.
Dementia/Alzheimer's Rotation
During this one-month rotation, fellows are exposed to caring for a wide range of patients representing the full spectrum of cognitive function related to Alzheimer's and other forms of dementia. Fellows have the opportunity to learn from leading dementia experts, Dr. Alan Mandell at the Bedford VA campus and Dr. Andrew Budson at VA Boston's Jamaica Plain campus. Both experiences provide outpatient consultative care and education to patients and families. Dr. Mandell also performs general neurologic consultative services to the CLC units.
Community Living Center
Geriatric Fellows rotate through a one-month long nursing home and rehabilitation rotation at our Boston VA site on the Community Living Center (CLC) unit. The CLC is designed for frail older adults who manifest multiple medical problems and geriatric syndromes typical of patients in long term care settings. Fellows are responsible for daily rounds on the unit and addressing and treating acute and chronic medical/geriatric problems that arise day to day. The fellow is encouraged to take ownership in patient care including longitudinal geriatric primary care needs, reviewing and updating monthly orders, running interdisciplinary team & family meetings, addressing and updating advance directives, under the direct supervision of an attending physician.
Hospital in Home
The Hospital in Home (HIH) program is a unique model of care that provides complex care patients with extensive care in the home with goals of reducing hospital admissions, length of hospital admissions, reduce complications of medical care and most importantly provide patient centered care. The HIH team is based on an interprofessional approach to care of patients with nurses, pharmacists, social workers, advance practice clinicians and physicians as the team foundation. The goal of caring for these patients is to maintain complex patients in place and to provide care that aligns with patients' values and health goals, using the Geriatric 5M's approach and Patient Priorities Care approach to discussing patients' values. The fellow will participate in HIH admissions (while patient is in hospital/emergency department or from clinic) and home visits during the month-long rotation. They are expected to attend the daily interdisciplinary team (IDT) huddles and to contribute to care of patients. This rotation takes place at VA Boston Healthcare System located in West Roxbury.
Geriatric Evaluation and Management (GEM) Unit
ENRM Bedford VA Medical Center Geriatric Evaluation and Management (GEM) unit is a 24-bed inpatient rehabilitation program specifically designed to help Veterans return to living an independent and active lifestyle as quickly as possible. During the one-month GEM rotation, Geriatrics fellows help lead an interprofessional clinical geriatrics team, including nurse practitioners and house staff, and work under the overall guidance of the attending physician. Clinicians work collaboratively with skilled nurses, psychologists, pharmacists, care managers, and physical, occupational, speech, and recreational therapists to evaluate and treat Veterans to support maximum independence.
Geriatric Psychiatry
The ENRM Bedford VA Medical Center geriatric psychiatry rotation allows fellows to perform psychiatric consultations on seven of the Community Living Center (CLC) units under the direct supervision of a geriatric psychiatrist for a one-month rotation. Common psychiatric problems that are seen are Schizophrenia, Anxiety, Depression, or Dementia with Agitation and other behavioral disturbances. On the units, the fellow learns to manage patients with common presentations including agitation, aggression, depression and withdrawal, wandering and self-injurious behaviors. An interdisciplinary team approach is used to develop a plan involving both pharmacological and non-pharmacological interventions.
Additional Consultative Experiences: Fellows also have the opportunity to rotate through two BMC-based Geriatric Consult experiences at our BMC Shapiro outpatient clinic:
Comprehensive Geriatric Assessment Clinic: Precepted by Fellowship Program Director Dr. Ryan Chippendale, this clinic allows for fellows to take a deep dive into comprehensive geriatric assessments with one patient scheduled per clinic session and with the assistance of an interprofessional team. Hear Dr. Chippendale discuss more about the Geriatric Assessment Clinic experience on this Boston MedTalks Podcast.
Memory Disorders Clinic: Precepted by Geriatrics Section Chief Dr. Hollis Day, this clinic allows for fellows to learn the core components of assessing and diagnosing patients presenting with various stages of memory complaints and disorders. Fellows have the opportunity to become more comfortable with performing memory testing, educating patients and families about new diagnoses and connecting them with appropriate resources. Learn more about our Memory Disorders Clinic here.
Call Schedule
Fellows participate in overnight and weekend call for our outpatient geriatrics practice alongside our geriatrics attending physicians. Fellows are scheduled for weekend call no more than once per month. They also take one weekday call per month. All call is performed at home and there is NO in-house call required, even when rotating through the geriatrics inpatient service. There is extensive training provided to incoming fellows to ensure appropriate skill development in the area of telemedicine and there is always a supervising attending that can be reached 24 hours a day when the fellow is on call.
Educational Didactics
Fellows are introduced to a wide array of both geriatric and career related topics throughout the year-long didactic curriculum. Fellows have a month-long orientation experience in July that includes core topics in Geriatrics as well as topics to help adapt to a new system of care, including introductions to the various clinical sites of practice, prioritization with complex patients, and personal time management strategies. Our innovative Center of Excellence Curriculum as well as small group, high-yield geriatric topics are woven throughout the year to ensure fellows build a strong foundation in skills as clinicians, leaders, and educators. Our Works in Progress curriculum is a year-long series to help fellows with projects and is for general guidance in their scholarship.
Didactic Experience
Example Topics (not inclusive of entire curriculum)
Orientation

The Art of Prioritization
Efficiency in Daily Practice
Basics of Rehabilitation Services
Nursing Home 101
On-call orientation
Introduction to Quality Improvement
Fellows as Teacher: Teaching & Precepting Medical Students

Center of Excellence

Geriatric Content Module

Evidence Based Medicine

Clinical Teaching Module

Leadership Module

Small group, high-yield geriatric content

Challenging Case Conferences
Works in Progress Meetings
Substance Abuse in Older Adults
Advance Care Planning
Behavioral Problems in Dementia
Caregiver Stress
Wellness & Resiliency

Works in Progress

Tackling IRBs

Turning Education into Scholarship

Survey Design

Abstract & Poster Design

CV workshop
National Collaboration: GERI-A-FLOAT
BU Geriatrics Fellowship Program is a proud partner in the GERI-A-FLOAT (GERIatrics Fellows Learning Online And Together) national collaboration. As a response to the COVID-19 pandemic's challenges to fellows' educational opportunities and well-being, geriatrics fellowship program directors from across the country partnered to develop this weekly virtual educational series for geriatrics fellows. Dr. Ryan Chippendale and the BU Geriatrics' fellows of AY2020 were amongst the founding members of this collaboration.
The goals of the the GERI-A-FLOAT series are as follows:
To deepen knowledge of topics related to geriatric medicine through shared online learning between fellowship programs
To combat the social isolation and mental health effects of the COVID-19 pandemic in fellows through networking and peer support.
To access past and future GERI-A-FLOAT sessions, visit the GERI-A-FLOAT Google sheet.
Research Experience:
There are a wide variety of clinical, educational and quality improvement related research projects that fellows can become involved with at Boston University and within our section of Geriatrics. Highlights of some of the ongoing research projects by our faculty members can be found here.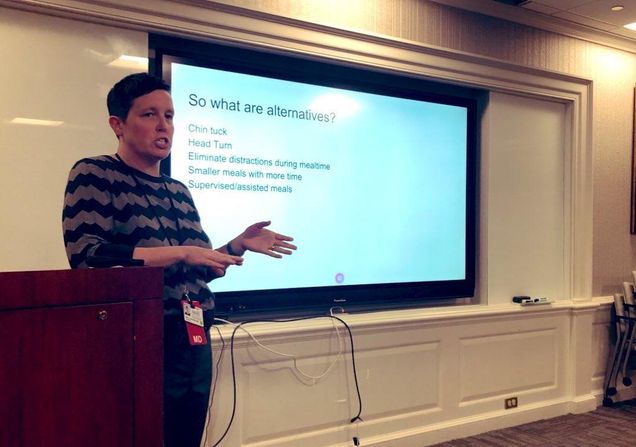 Teaching Opportunities:
Fellows have the opportunity to perform clinical teaching to a variety of different learners during their block and longitudinal experiences. Our Centers of Excellence Module on Clinical Teaching ensures the development of core skills as a geriatrics educator along with the following mentored teaching experiences:
Fellows serve as preceptors to 4th year medical students rotating through their required geriatrics rotation in the home care program. Students join fellows on home visits twice monthly, where fellows have the opportunity to teach and assess students' clinical skills. A curriculum dedicated to skill development in the area of precepting medical students is facilitated by Clerkship Director Dr. Megan Young during orientation.
Fellows also serve as a core educator to 3rd year medical students, Physician Assistant students, Subinterns, and Internal Medicine interns and residents during their Geriatrics Inpatient Service rotations. Alongside the Geriatrics Inpatient Service attending physician, fellows provide bedside teaching, attending rounds of core geriatric topics and "on the fly" teaching and coaching of all learners on the team.
Fellows have opportunities to teach other learners such as medical and physician assistant students & family medicine residents while on rotation at our VA affiliated sites.
Fellows also have additional opportunities to refine their teaching skills through presenting Morbidity & Mortality conferences, Journal Clubs and other topics of interest during Geriatrics Grand Rounds both at Boston University and VA sites.
If interested, fellows have the opportunity to create, facilitate and disseminate innovative educational experiences for the various learners we work with as part of their fellowship experiences. Some recent examples are as follows:

Dr. Shivani Jindal assisted in creating & studying a "Social Calls" program for socially isolated older adults during the time of COVID utilizing the expertise of 4th year medical students on their required geriatrics clerkship under the mentorship of Dr. Megan Young:
https://icollaborative.aamc.org/collection/covid-19-student-service-projects/
Dr. Nicole Mushero created, facilitated and evaluated a curriculum on dysphagia in older adults with dementia which was given to Internal Medicine Primary Care residents which is currently being prepared for manuscript submission to Med Ed Portal under the mentorship of Dr. Ryan Chippendale
Dr. Sarah Phillips created, facilitated and evaluated a curriculum on the 4Ms that was given to Internal Medicine residents with their continuity clinic at VA Boston which was published in Med Ed Portal under the mentorship of Dr. Andrea Schwartz of the VA GRECC 2nd year fellowship program.
Mentorship:
Early establishment of mentorship in all domains of geriatrics practice is a pillar of our program. We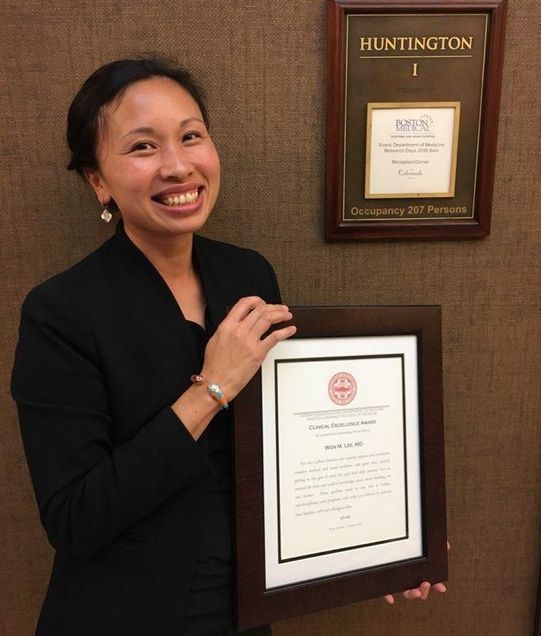 strongly believe that this translates to success in pursuing individual interests during fellowship and when transitioning to new career paths after training.
As a unique aspect of our fellowship experience, each fellow is paired 1:1 with clinical preceptors in all longitudinal sites of care (Home Care, Clinic, Nursing Home) who serves as mentors in each respective clinical area.
Additionally, fellows are scheduled to meet with Program and Section leadership (Drs. Chippendale, Vovnoboy and Day) during orientation to explore individual scholarship, research, clinical and/or administrative interests. This allows our team to match fellows with mentors in areas of interest early to ensure academic interests and pursuits are explored fully during fellowship.
During orientation, we also hold "mentorship lunches" with various faculty who have active ongoing scholarly projects that fellows can join if interested.
As part of our educational curriculum, we hold monthly "Works In Progress" sessions, led by Core Faculty member and outstanding geriatrics researcher, Dr. Stacy Anderson PhD, to ensure additional mentorship for ongoing research, education or QI projects.
With the combination of all these supports, we have a 100% success rate in our fellows presenting abstracts at the national American Geriatrics Society conference each year, in addition to presenting at other local, regional and national conferences.