Optional 1-2 Years of Fellowship

New England VA Geriatrics Research, Education and Clinical Care (GRECC) Program
Fellows in Geriatric Medicine have two opportunities to continue their geriatrics fellowship training in the New England GRECC, located at VA Boston and VA Bedford.   The New England GRECC, directed by Jonathan Bean, MD, has three major areas of research: (1) The aging brain; (2) Technology in the care of older veterans; (3) Function and frailty. There are also many exciting projects in Geriatrics Education and Clinical Innovation.
What is a GRECC?
The Veterans Health Administration developed Geriatric Research Education and Clinical Centers (GRECCs) to attract scientists and health professionals to the field of geriatrics to help increase the knowledge of aging, transmit this knowledge to health care providers, and improve the quality of care delivered to older adults.  Each of the 19 national GRECCs contains a research, education, and clinical component.  For more information, please visit va.gov/grecc
Second Year Affiliated Fellowship in Geriatrics
Trainees have the opportunity to spend a scholarly year in the GRECC. Most of the time is spent at the VA, in addition to a continued affiliation with their academic fellowship program.  Interested fellows should inquire about this opportunity early during their clinical geriatric fellowship year to ensure success. During this year, fellows:
Complete a scholarly project in an area of research, clinical innovation or education with a VA mentor or GRECC-affiliated BU/HMS mentor.
Participate in clinical care of geriatrics patients at the VA, including opportunities to teach and supervise trainees in the multidisciplinary geriatrics consult clinic.
Engage in educational opportunities that further the fellow's career goals, such as the Harvard Catalyst research program, the Harvard Macy Program for Post-Graduate Trainees and other courses at BU or HMS.
Advanced Fellowship in Geriatrics
First year geriatrics fellows may apply to the VA Advanced Fellowship in Geriatrics.   Information is available at http://www.va.gov/oaa/specialfellows/programs/SF_AdvGeriatric.asp.  This two-year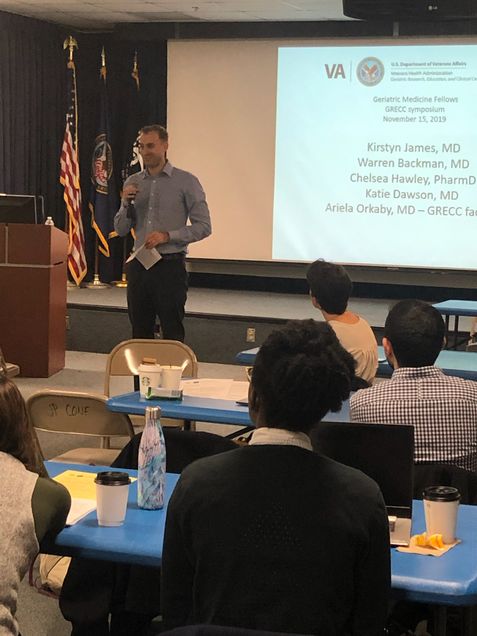 fellowship is a more traditional research fellowship with at least 75 percent of time in scholarly pursuit of geriatrics (coursework and research) under the direction of a research mentor and no more than 25 percent in clinical care.  Fellows are required to make substantive, independent, and identifiable contributions to a research project.   For this fellowship there is a local and national application process.  If selected locally, additional materials will need to be completed for review at a national level.