Dean Faulkner: Katherine Thompson, MD
Geriatrics hosted its annual Dean Faulkner Visiting Professor on Friday, April 1, 2022. The lecture is in honor of James Morrison Faulkner, MD, who became the Dean of BUSM in 1947. During his eight years as Dean, he championed the role of the Home Medical Service – one of the forerunners of our current Home Care Program in the medical school curriculum.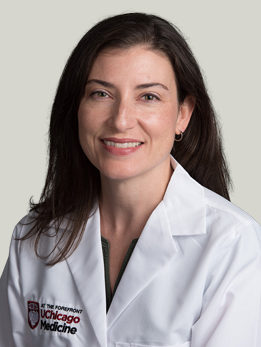 This year's Dean Faulkner Visiting Professor was Dr. Katherine Thompson, Associate Professor of Medicine in the section of Geriatrics & Palliative Medicine at the University of Chicago. She graduated from the Harvard Macy Program for Educators in the Health Professions as well as University of Chicago's MERITS medical education fellowship. Dr. Thompson is a nationally recognized expert in medical education and geriatrics workforce development. She is the Director of the geriatrics fellowship as well as the combined geriatrics and palliative medicine fellowship at the University of Chicago. She also directs one of 48 national HRSA-funded Geriatrics Workforce Enhancement Program projects and has received distinguished faculty awards in program innovation and community service and advocacy for her work partnering with community-based organizations to build Age Friendly and Dementia Friendly communities. Dr. Thompson is also a nationally-recognized expert in using Project ECHO and telementoring to provide continuing medical education in Age Friendly Care. 
Dr. Thompson presented virtually to the Geriatrics section on "Addressing Chronic Pain & Opioid Use in Chicago's Older Adults: A Case Study of Geriatricians as Expert Collaborators." The talk focused on identifying major factors that may impact chronic pain and opioid use, and interventions to improve chronic pain management while using patient-centered clinical decision support tools in older adults. She also presented at the Department of Medicine's Medical Grand Rounds on "Building Age Friendly Workforce and Community."
We enjoyed having Dr. Thompson as our visiting professor and the lessons she shared with us!