History of The Evans Foundation & Contacting BU IBRO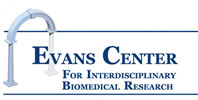 The Evans Memorial Department of Clinical Research was established on June 19, 1910, when Mrs. Maria Antoinette Evans made the first in a series of gifts to University Hospital (then Massachusetts Homeopathic Hospital) to endow a research department of medicine. Her purpose was to create a memorial to her husband, Robert Dawson Evans, a very successful businessman. The current Evans Building, which is the third structure to house the ever-growing Department, was dedicated in 1971. It contains more than 100,000 square feet of research laboratories and offices for the staff of the Department of Medicine. This building was purchased by Boston University in fiscal year 2000.
The Evans Medical Foundation was founded in 1975. The faculty of the Department of Medicine voted to reorganize themselves as a non-profit corporation, the Evans Medical Foundation, to improve medical care for all patients and to provide one-class, first-class care for all. The title, Evans Medical Foundation, was chosen to indicate the close relation of the Foundation to the Evans Department of Medicine, the formal name for the research activities of the Department of Medicine at the Boston Medical Center. By supporting research, education, and clinical care, the Foundation has developed a new approach to fulfilling the mandate of Maria Antoinette Evans. The new Evans Center for Interdisciplinary Biomedical Research with its Director, Dr. Katya Ravid, is committed to continuing and enhancing this very same goal.
Find information about supporting the Evans Center for Interdisciplinary Biomedical Research through the BUMC Office of Development, at www.bumc.bu.edu/meddevelopment/
How to Contact the  Boston University Interdisciplinary Biomedical Research Office:
Robin E. MacDonald [ remac at bu dot edu ]
Executive Assistant, BU IBRO, Evans Center for Interdisciplinary Biomedical Research
Boston University School of Medicine
700 Albany St., W601
Boston, MA 02118
To Contact Boston Medical Center, Evans Medical Foundation (including billing questions):
https://www.bmc.org/about-us/contact-us
Helpful BMC Phone Numbers
General Information
Call: 617.638.8000
Office of Patient Advocacy
Call: 617.414.4970
Patient Billing
Call: 617.638.6157
TTY
Call: 800.439.2370