Nanotheranostics
INITIATION DATE:
01.01.12
ARC DIRECTORS AND CO-DIRECTORS
Mark Grinstaff, PhD Professor Chemistry, Biomedical Engineering, BU-CRC
Joyce Y. Wong, PhD Professor Biomedical Engineering, BU-CRC
Karl J. Karlson, MD, MMSc Chief, Cardiac Surgery Cardiac Surgery, Surgery, BUSM
Victoria L.M. Herrera, MD Professor Cardiology, Medicine, BUSM
OVERVIEW OF GOALS AND MISSION:
Rationale:
Establishing a Nanotheranostics ARC is important because nanotheranostics, defined as the integrated combination of target-specific diagnostics and delivery of therapeutics based on nanotechnology platforms, could provide a potential high-impact nanomedicine paradigm for addressing current treatment roadblocks and persistent clinical needs, which are not successfully addressed with current approved technologies. The ARC-program provides the optimal avenue to develop nanotheranostics research since nanotheranostics requires a multidisciplinary approach.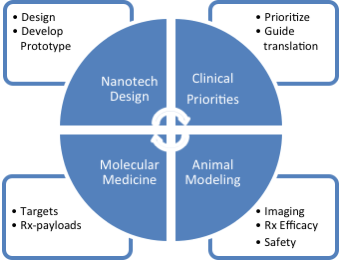 Briefly, the design of the nano-theranostic platform requires an understanding of the following at the outset: the nanotechnology potential, the accessible molecular target(s) and high-value therapeutics in the context of disease progression complexities, the clinically pertinent targeted-imaging, the clinically feasible targeted-delivery, and the needed preclinical model for testing in vivo efficacy and safety. While daunting, thechallenges are exciting. As members of the Nanotheranostics ARC, we seek the opportunity to meet the challenges of nanomedicine. Importantly, we have prototype nanotechnology platforms (expansile nanoparticles (NPs), nanowire-mesh, nanogels [M. Grinstaff], nanoemulsion formulations [JB Tagne, T. Porter], Janus-NP/microbubble polyplexes [J.Wong, V.Herrera, N.Ruiz-Opazo] – all of which have shown in vitro and vivo efficacy delivering drugs and DNA (respectively), and proof of concept imaging formats.
In summary, our proposed ARC benefits from, and complies with the interdisciplinary mission of the Evans Center – involving clinicians, biomedical researchers and engineers, and involving co-directors who each represent a different discipline. The ARC initiative got us brainstorming together and we have more ideas than time and budget would permit. Appreciative of the opportunities created and that we are uniquely poised, we are committed to developing nanotheranostics research at BU.
ARC MEMBERS:
ARC co-Directors
| | | | |
| --- | --- | --- | --- |
| | Name | Title | Section / Department(s) |
| 1 | Mark Grinstaff, PhD | Professor | Chemistry, Biomedical Engineering, BU-CRC |
| 2 | Joyce Y. Wong, PhD | Professor | Biomedical Engineering, BU-CRC |
| 3 | Karl J. Karlson, MD, MMSc | Chief, Cardiac Surgery | Cardiac Surgery, Surgery, BUSM |
| 4 | Victoria L.M. Herrera, MD | Professor | Cardiology, Medicine, BUSM |
ARC members (alphabetical order per expertise category)
Nanosciences and Nanotechnology (*core faculty)

Name

Title

Department

1*
Mark Grinstaff, PhD
Professor
Chemistry, Biomedical Engineering, BU-CRC
2*
Joyce Y. Wong, PhD
Professor
Biomedical Engineering, BU-CRC
3*
Tyrone M. Porter, PhD
Assoc. Professor, Assoc. Director of CNN
Mechanical Engineering, BU-CRC
4*
Jean-Bosco Tagne, PhD
Assistant Professor
Pulmonary Medicine, Medicine, BUSM
Basic Sciences / Translational Research

Name

Title

Section, Department

5
William Cruikshank, PhD
Professor
Section of Pulmonary Medicine, Medicine
6*
Victoria Herrera, MD
Professor
Section of Cardiology, Medicine
7
Katya Ravid, PhD
Professor, Director Evans Center for IBR
Whitaker Cardiovascular Institute, Medicine, Biochemistry, Evans Center for IBR
8*
Nelson Ruiz-Opazo, PhD
Professor
Section of Cardiology, Department of Medicine, BUSM
9*
Richard Wainford, PhD
Assistant Professor
Department of Pharmacology
10
Orian Shirihai, PhD
Assoc. Professor
Medicine
Clinical Sciences: Surgery, Medicine, Radiology

Name

Title

Section, Department

11
Alik Farber, MD
Associate Professor, Chief Vascular Surgery
Vascular Surgery, Surgery, BUSM
12*
Karl J. Karlson, MD, MMSc
Chief, Cardiac Surgery
Cardiothoracic Surgery, Surgery, BMC
13
Elizabeth Klings, MD
Assistant Professor
Section of Pulmonary Medicine, Department of Medicine, BUSM
14*
B. Nicolas Bloch
Assistant Professor
Radiology, BUSM
External Advisors, Consultants, Collaborators
Gregory Lanza, MD, PhD
Professor of Medicine
Washington University, St. Louis, MO
Michael Obrien, MD
Professor of Pathology
Department of Pathology, BUSM
David McAneny, MD
Associate Professor
Department of Surgery, BMC
Yolanda Colson, MD
Associate Professor
Department of Surgery, BWH, Harvard Medical School
Patrick Y. Wen, MD
Professor of Neurology, Director, Center for Neuro-Oncology
Dana Farber Cancer Center, Harvard Medical School
15*
Deborah Burstein, PhD
Associate Professor, Radiology
Beth Israel Deaconess Medical Center, Harvard Medical School
16
Maria Jose Alonso, PhD
Professor
University of Santiago de Compostela, Spain
17
Marcos Fuentes Garcia, PhD
Associate Professor
University of Santiago de Compostela, Spain