Boston Medical Center-Boston University Addiction Medicine Fellowship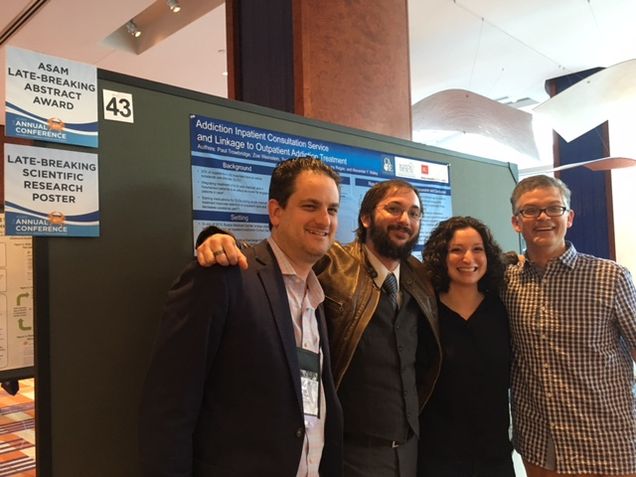 The Addiction Medicine Fellowship Program is a 1 or 2 year fellowship. Year 1 is clinically-focused on fulfilling the requirements for board certification in addiction medicine.  Year 2 is focused on mentored research projects and typically includes a Master's of Science in Epidemiology or Health Services Research. There is also a 3-year combined Infectious Disease-Addiction Medicine Fellowship. Fellows are mentored by our multidisciplinary faculty from Internal Medicine, Infectious Disease, Emergency Medicine, Obstetrics & Gynecology and Addiction Psychiatry. The BMC-BU Addiction Medicine Fellowship Program is accredited by the American Board of Addiction Medicine (ABAM) Foundation.
Eligibility and Application Requirements
Applicants must be board certified or board eligible in Internal Medicine, Family Medicine, Emergency Medicine, Pediatrics, Preventive Medicine or OB-GYN.  Additionally, applicants must be graduates of, or in the final year of an ACGME accredited clinical residency program.  Applications are reviewed on a "rolling basis" prior to the start of the fellowship, which typically begins July 1.  A full Massachusetts medical license is required before starting the fellowship as well as a physician waiver to prescribe buprenorphine. Information on how to obtain the waiver can be found at the SAMHSA website.
A completed application, personal statement, curriculum vitae and at least three references to the Fellowship program are required. After review by the Fellowship Director and Faculty, decisions to offer an interview are made. Interviews with current fellows and faculty provide an opportunity to ask questions and learn more about the program.
This program was developed by faculty within the Clinical Addiction Research and Education (CARE) Unit at Boston Medical Center in collaboration with the Boston University Addiction Psychiatry Fellowship with (PD, Dr. John Renner) and the Primary Care Academic Fellowship Programs  (PD, Dr. Michael Paasche-Orlow).
The BMC-BU Addiction Medicine Fellowship Application
Prospective Rotators
If you are interested in an Addiction Medicine rotation, please contact Linda Neville.  Please note, the application is due a minimum of 90 days prior to the start of the rotation and a Massachusetts license is required. The application and other required documents can be found here.
For more information, please contact:
Linda Neville, 801 Massachusetts Ave, 2nd floor Boston, MA 02118617.638-8344 (P)| 617.414.4676 (F) email: linda.neville@bmc.org