Integrated Biomedical Imaging Services (IBIS)
The optical microscopy cores at the Boston University Medical campus offer comprehensive, cutting-edge technology and support for a wide range of digital imaging microscopy applications. Located across several facilities, these resources are listed below according to the strengths of each instrument and their supporting facility teams, to better assist you in finding and evaluating the proper equipment and support for your research. These instruments fall into the following categories, best suited for different applications.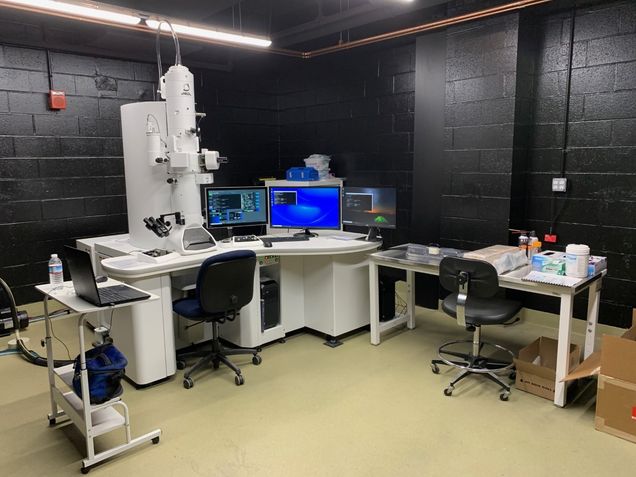 JEOL JEM 1400 Flash TEM system has (a) Dual-Axis Fischione Model 2040 specimen holder, which allows for precise in situ specimen in-plane 360 degree rotation that is necessary for automated montaging and serial imaging. This specimen holder features an optimal tilt angle range in narrow gap (~ 5 mm) pole piece geometries, while maintaining microscope resolution. Thus, this holder can also be used for 3D tomography applications; (b) SerialEM and IMOD Software, which enables automated image acquisition, registration, and alignment of single- or dual axis tilt series. SerialEM also employs a versatile montaging system that can be used to acquire a large-scale image montage of the entire grid across the TEM sample. The IMOD software suite is a set of post-acquisition programs for processing the 3D tomography tilt series as well as serial section data into 3D reconstructions.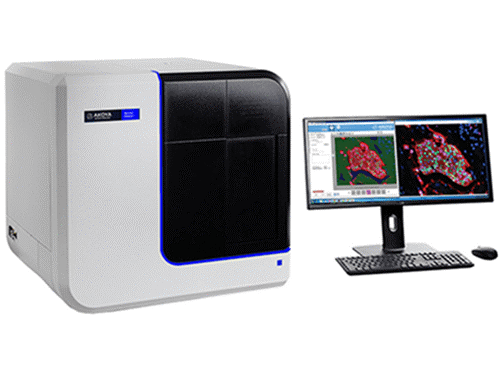 The Vectra Polaris Quantitative Pathology Imaging System is good for high throughput whole slide image acquisition of both brightfield and high-plex fluorescent images-up to 6 colors plus DAPI using the rapid acquisition Motif workflow. Although Opal TSA conjugated dyes are recommended, a broad spectrum of fluorophores are compatible with the systems filter sets. Both 200x and 400x total magnification are available, with the latter recommended for ISH analysis that demands higher resolution. Importantly, this system affords increased analytical sensitivity/enhanced signal to noise ratios compared to alternative slide scanners afforded through multispectral unmixing and removal of autofluorescence signals. Furthermore, the system is integrated with a quantitative image analysis pipeline (inForm) that affords generation of continuous pathomics datasets to empower discovery including tissue classification, positive pixel analysis, spatial analysis, and phenotyping.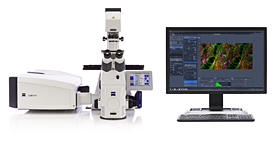 Zeiss LSM 880 with Airyscan enables fast and high-resolution.
Optical sectioning of fluorescent tissue using confocal or multiphoton imaging. Time-lapse imaging of living tissue or cell culture. Tile scanning and stitching of composite images. 3D reconstruction of biological tissue/cells. In vivo time-lapse imaging. FRAP, FRET, Bleaching.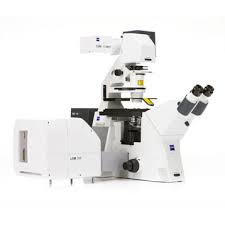 Optical sectioning of fixed and stained cells and tissue. Tile scanning. Time-lapse imaging using wide-field or confocal scanning. FRAP.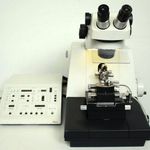 This instrument is designed for extremely precise cutting of resin embedded biological specimens. It achieves consistent high quality ultra-thin sections (40-100 nm) for transmission electron microscopy, or semi-thin sections (1-2 µm) for light microscopy. It features a continuous feed range from 0 to 2.5 µm and has adjustable cutting speeds of 0.1 to 50 mm/sec. The system consist of a control box with power cord, a microtome sectioning unit, and a microscope assembly with AO Stereostar 570 zoom body (0.7X – 4.2X) with attached 10X eyepieces. It has a 6V, 10W halogen illumination system.
How to Schedule
Please login to iLab system to schedule equipment time or services. For new users please follow the steps outlined in Information for New Users.
View BUMAPS
◄ Back to Cores, Facilities and Services website.