Katrina Ann Steiling, MD
Assistant Professor, Medicine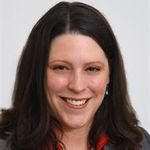 75 E. Newton St Evans Building
Biography
Dr. Steiling is a Pulmonary/Critical Care Physician-Scientist with a longstanding interest in improving the ability to effectively detect, treat, and cure smoking-induced lung diseases such as lung cancer and chronic obstructive pulmonary disease (COPD). She completed her fellowship training in Pulmonary and Critical Care Medicine at Boston University Medical Center, and concurrently completed a Master of Science in Bioinformatics through the Boston University College of Engineering.
Dr. Steiling's research centers on improving the diagnosis, treatment and prevention of lung cancer and COPD. Using the airway field of injury hypothesis, which posits that cigarette smoking induces molecular changes throughout the respiratory tract, she has studied alterations in the airway transcriptome that reflect the presence, susceptibility, and progression of smoking-induced lung diseases. She has used whole-genome expression profiling of the bronchial airway epithelium to describe the relationship between upper and lower airway gene expression, and leveraged this information to develop clinically-relevant biomarkers of lung cancer, COPD, and other diseases that affect the lung.
In addition to her translational research, Dr. Steiling has led the implementation of two important clinical programs focused on improving the early detection of lung cancer in at-risk individuals. She founded the Boston Medical Center Lung Nodule Clinic, a sub-specialty referral resource that supports the evidence-based evaluation of incidental pulmonary nodules detected by diagnostic and screening CT scans. She also led the implementation of a multi-disciplinary Lung Cancer Screening Program at Boston Medical Center. Her team was recognized with a 2016 Clinical Quality Improvement Award from the Boston University Medical Center Evans Foundation. She currently co-chairs the Boston Medical Center Lung Cancer Screening Steering Committee.
Dr. Steiling sees patients in the Lung Nodule Clinic, multi-disciplinary Thoracic Oncology Clinic and attends in the Medical Intensive Care Unit at Boston Medical Center.
Other Positions
Member

,

BU-BMC Cancer Center

,

Boston University

Member

,

Pulmonary Center

,

Boston University

Member

,

Evans Center for Interdisciplinary Biomedical Research

,

Boston University

Member

,

Bioinformatics Graduate Program

,

Boston University

Member

,

Genome Science Institute

,

Boston University
Education
Boston University School of Medicine

, MD

Boston University

, MSc

Boston College

, BS