Serrano Lab wins BU Climate Lab Funding to Tackle Lab Waste and Energy Use
Even as scientists warn about climate change and pollution, their own labs contribute to the problem with one study estimating that research labs produce 12 billion pounds of plastic waste a year.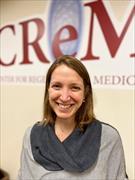 When researcher Angie Serrano, PhD, saw this statistic, she became inspired to do her part. Serrano, a Boston University Chobanian & Avedisian School of Medicine assistant professor of vascular biology, recently started her own lab at the Center for Regenerative Medicine (CReM) and realized it gave her the perfect opportunity to incorporate eco-friendly practices.
Serrano and her group proposed researching better ways the University's labs could recycle, reuse materials, and reduce energy use to the BU Campus Climate Lab and they were one of 21 teams awarded Campus Climate Lab funding this school year. Read more in a story in The Brink that details how they went about creating a blueprint for other BU laboratories with guidelines on the best sustainable practices and the required financial commitment. PhD student Carly Golden, working in collaboration with Serrano Lab Manager Saylor Williams and CReM Lab Manager Greg Miller, won this year's Anthony Janetos Climate Action Prize for her work on the project.