Class of 2023 MD & PhD Students: Use Your Time and Voice for Purpose, Good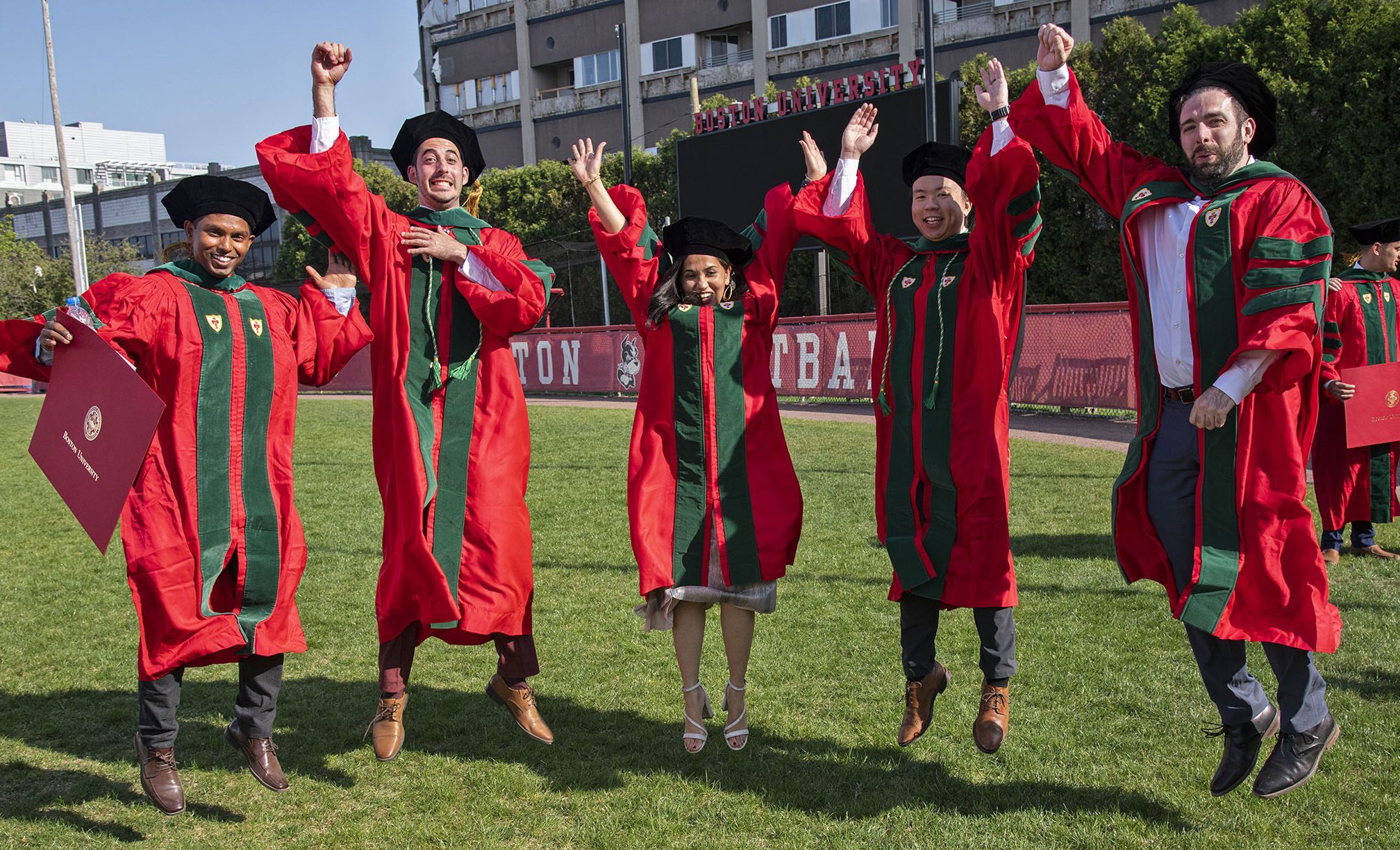 This year's graduating class of MDs and PhDs has become creative, flexible and resilient. A global pandemic upended their lives and their graduate education, and revealed disparities within the health-care system. Wars and tensions around the world have escalated again with growing numbers of refugees, many of them in our own patient populations, said Medical Campus Provost and Dean Karen Antman, MD, at Thursday's convocation at the Track and Tennis Center.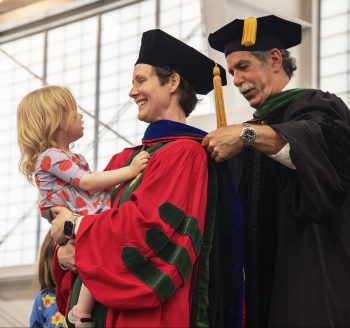 "Your unique experiences, that you certainly did not anticipate when you applied for graduate school, required creativity, adaptability and commitment," said Antman.
"In addition to science and medicine, you learned flexibility adaptability and creativity, important skills in both science and medicine, as well as disaster management up close and personal," Antman continued. "I'm pretty sure your generation of physicians and scientists will be distinctive."
The Class of 2023 includes 29 PhDs, 149 MDs, nine MD/PhDs, three MD/MPH and three MD/MBAs. Graduates ranking at the top of their class included 16 cum laude, five magna cum laude and two summa cum laude, Joshua Gustine and Flaminio Pavesi.
James McKnight, PhD, associate provost and dean of Graduate Medical Sciences, told graduates they must "continue to make a difference in the world, in your families and your communities. Be involved, take care of the world, be engaged, and speak out with your opinions," he said. "Your hard work here has prepared you, and we are confident that you have the necessary will, the courage and the tools to make a difference in all our futures."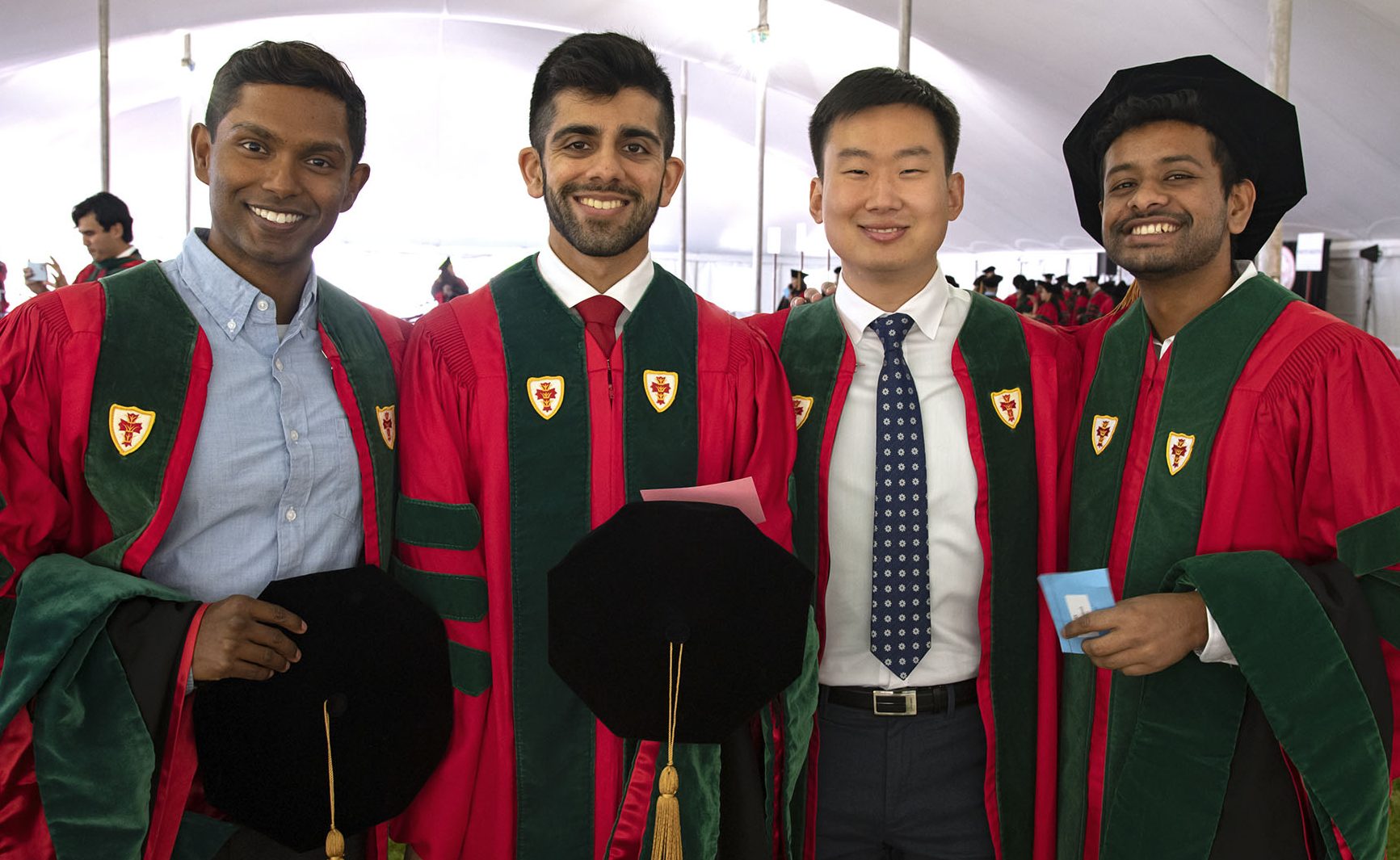 One of many medical students who stepped up to help during the pandemic, graduating MD student speaker Divya Satishchandra worked with her peers to start a call center for Boston Medical Center patients, connecting them with community resources.
Satishchandra aspires to a career in cardiology and will complete her residency at Boston Medical Center.
"There will always be more to do, more to learn, more to innovate, more to fix. The field of medicine is ever-expanding and infinite," she said.
Experiences like holding a human heart in anatomy class, the awe and existential dread of the learning process, the tests that could open or close a door on a future career, gave way by the third year to the intangibles of patient care.
"We quickly learned that although multiple choice questions have one answer, real patient care involves multiple answers, or sometimes no answers," said Satishchandra. "I think we've all learned that to be a physician is to embody qualities that may never be truly captured by a number, or any single outcome."
Chosen to represent the graduating PhD students, speaker Michael Breen told students that despite the array of degrees being awarded Thursday and their diverse careers, "we are all bound by a common cause: the health and well-being of humankind."
"The world, potentially now more than ever, needs caring and compassionate doctors and researchers," said Breen, who received his PhD in microbiology with a focus on immunology and infectious diseases.
"During the pandemic, we all came together … in incredible ways. Selflessly, and before vaccinations were available, we all were on the forefront of the mass testing program, helping patients in any way we could, and researching new treatments and diagnostics."
He advised graduates that as they thank those who helped them along the way, they also give themselves credit. "There is no being here without your hard work, tenacity and sacrifices," said Breen.

Convocation speaker Rochelle Walensky, MD, MPH, director of the Centers for Disease Control and Prevention, worked on the frontlines of the COVID-19 pandemic as chief of infectious diseases at Massachusetts General Hospital and studied vaccine delivery and strategies to reach underserved communities. She spoke about the need to listen to those who largely go unheard and unheeded.
"Barriers may stand in the way of those we work with and care for, like poverty, poor housing and unsafe or unhealthy environments, as well as lack of access to good jobs, quality education and comprehensive, high quality health care," Walensky said.
"With your newly minted degrees, you have knowledge, you have wisdom, you have stature and you have privilege," said Walensky. "And, I would argue, you now have a responsibility to not just use your voice for your own advocacy, but to use it for those who cannot otherwise advocate for themselves."
The choice to listen and to speak up requires the sacrifice of one of a physician or scientist's most precious commodities – time, said Walensky.
"It will mean that when someone conveys an uncomfortable professional interaction that is so easy to gloss over, you will instead ask to hear more, unpack the details, sit with your colleague through their tears – even when you are overbooked with experiments and meetings," she continued.
Walensky advised graduates to be intentional about how they use their time and voice, and to use them for a purpose and for good.
"I ask you to use your voice to end the practice of marginalizing people, clinically and professionally, based on their identity," she said. "I ask you to use your voice to eliminate the structural barriers to opportunity for everyone in this country. And I ask you to use your voice and the power of your research and your data to drive equity in policy change.
"Never in our history have our voices been so mightily important," Walensky continued. "You and I are so fortunate to be living in such an exciting time where great work and meaningful change for people of all communities and all backgrounds can happen not by accident but because of your devotion, because you used your voice and it rings clear.
"Keep your voice strong. Consistent. Compassionate. Be courageous and never give up."
See more on Facebook.