Haiyan Gong, MD, PhD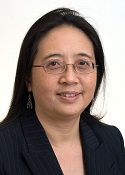 PROFESSOR OF OPHTHALMOLOGY AND ANATOMY AND NEUROBIOLOGY
Telephone: 617-638-4434
Fax: 617-638-5337
E-mail: hgong@bu.edu
Education:
M.D.: Jiangxi Medical College
M.S.: Peking Union Medical College
Ph.D.: Boston University
Postdoctoral Fellowships: West Virginia University & Boston University School of Medicine
Research Interests:
Glaucoma is a leading cause of blindness worldwide. A primary risk factor for the development and progression of primary open-angle glaucoma (POAG) is elevated intraocular pressure (IOP), which results from increased resistance to aqueous outflow. However, the cause of this resistance remains unknown. The research in Dr. Gong's laboratory is focused on developing new therapeutic strategies to lower IOP in glaucoma. This is done through understanding the mechanisms that regulate aqueous outflow resistance in normal eyes and how this resistance is increased in POAG. Dr. Gong's laboratory has developed a novel fluorophore-guided method of studying the structure and function of the aqueous outflow system. This unique method uses the effective filtration area as a new parameter in examining the structural changes responsible for the reduced outflow in glaucomatous eyes. They are currently using this new method to investigate both the mechanisms of potential drugs, as well as novel micro-invasive surgical devices in the treatment of glaucoma.
Our current ongoing research projects include:
1. Cellular Physiology of the Aqueous Outflow Pathway (Funded by NIH/NEI)
The goals of this project are to determine the factors that regulate the effective filtration area in normal eyes and the changes in these factors responsible for decreased effective filtration area in eyes with ocular hypertension or POAG.
2. The Mechanical Basis of Primary Open Angle Glaucoma (Funded by NIH/NEI)
This is a research project in collaboration with Dr. Mark Johnson at Northwestern University. The goals of this project are to definitively determine whether increased stiffness of Schlemm's canal endothelial cells leads to decreased inner wall porosity and consequently the increased aqueous outflow resistance characteristic of most cases of POAG.
3. A Mouse Glaucoma Model and Stem Cell-Based Therapy for Glaucoma (Funded by BrightFocus Foundation)
This is a research project in collaboration with Dr. Yiqin Du at University Pittsburgh School of Medicine. The goals of this project are to develop a mouse glaucoma model with similar cellular changes observed in POAG and to develop a stem cell-based therapy for glaucoma. Dr. Gong's laboratory will be involved in electron microscopic studies of this project.
4. Evaluation of the effect of an Aerie drug (AR-13324) on aqueous flow (Funded by Aerie Pharmaceuticals Inc.
This is a research project in collaboration with Dr. Daniel Stamer of Duke University. The goal of this project is to investigate the mechanisms of increasing outflow facility by AR-13324M in enucleated human eyes.
Recent Publications (2012-present):
Papers:
Swain DL, Ho J, Lai J, Gong H: Shorter scleral spur in eyes with primary open-angle glaucoma. Invest Ophthalmol Vis Sci. 56:1638-1648, 2015. PMID: 25670488
Vargas-Pinto R, Lai J, Gong H, Ethier CR, Johnson M: Finite element analysis of the pressure-induced deformation of Schlemm's canal endothelial cells. Biomechanics and Modeling in Mechanobiology; 14:851-861, 2015. PMID: 25516410
Yang C-Y, Huynh T, Johnson M and Gong H: Endothelial glycocalyx layer in the aqueous outflow pathway of bovine and human Eyes. Exp Eye Res, 128:27-33, 2014. PMID: 25217864
Gong H and Yang CY: Morphological and hydrodynamic correlations with increasing outflow facility by Rho-kinase Inhibitor Y-27632. Journal of Ocular Pharmacology and Therapeutics, 30(2-3):143-53, 2014. PMID: 24460021
Gong H and Francis A: Schlemm's Canal and Collector Channels as Therapeutic Targets. In Innovations in Glaucoma Surgery, Samples JR and Ahmed I eds. Chapter 1, page 3-25, Springer New York, 2014
Freddo TF, Gong H and Civan M : Anatomy of the Ciliary Body and Outflow Pathways. In Duane's Clinical Ophthalmology Lippincott, Williams & Wilkins, 2011 Edition
Yang C-Y, Liu Y, Lu Z, Ren R and Gong H: Effects of Y27632 on aqueous humor outflow facility with changes in hydrodynamic pattern and morphology in human Eyes. Invest Ophthalmol Vis Sci. 28;54 (8):5859-70, 2013. PMID: 24460021
Vargas-Pinto R, Gong H, Vahabikashi A and Johnson M: The effect of the endothelial cell cortex on atomic force microscopy measurements. Biophysical Journal, 105:1-10, 2013 PMID: 23870251
Zhu J, Ye W and Gong H: Reversible changes in aqueous outflow facility, hydrodynamics and morphology following acute intraocular pressure variation in bovine eyes. Chinese Medical Journal, 126(8):1451-7, 04/2013. PMID: 23595376
Buys ES, Ko YC, Alt C, Hayton SR, Jones A, Tainsh LT, Ren R, Giani A, Clerte M, Abernathy E, Tainsh RET, Oh DJ, Malhotra R, Arora P, Waard ND,  Yu B, Turcotte R, Nathan D, Scherrer-Crosbie M, Loomis SJ, Kang JH, Lin CP, Gong H, Rhee DJ, Brouckaert P, Wiggs JL, Gregory MS, Pasquale LR, Bloch KD, Ksander BR: Soluble guanylate cyclase α1-deficient mice: a novel murine model for primary open angle glaucoma. PLOS ONE 8(3):e60156, 2013
Swaminathan SS, Oh DJ, Kang MH.  Ren R, Jin R, Gong H and Rhee DJ: Secreted Protein, acidic and rich in cysteine (SPARC)-null mice exhibit more uniform outflow, Invest Ophthalmol Vis Sci.  54:2035-2047, 2013. PMID: 23422826
Freddo TF, Neville N and Gong H: Pilocarpine-induced flare is physiological rather than      pathological.  Exp Eye Res 107:37-43, 2013. PMID: 23187102
Haddadin TI, Oh D-J, Kang M-H, Villarreal Jr G., Kang J-H, Jing R, Gong H and Rhee DJ: Thrombospondin-1 and -2 null Mice Exhibit Lower Intraocular Pressures. Invest Ophthalmol Vis Sci. 2012:53(10):6708–6717. PMID: 22930728
Diskin S, Chen W-S., Cao Z, Gyawali S, Gong H, Soza A, Gonzalez A, Panjwani N: Galectin-8 promotes cytoskeletal rearrangement in trabecular meshwork cells through activation of rho signaling. PLOS ONE 7(9): e44400, 2012. PMID: 22973445
Francis AW, Gyasi ME, Deng L, and Gong H: Comparison of moderate and advanced glaucoma patients in Ghana.   Clinical Ophthalmology, 6, 297 – 304, 2012. PMID: 22393281
Book Chapters:
Gong H and Francis A: Schlemm's Canal and Collector Channels as Therapeutic Targets. In Innovations in Glaucoma Surgery, Samples JR and Ahmed I eds. Chapter 1, page 3-25, Springer New York, 2014