Application Process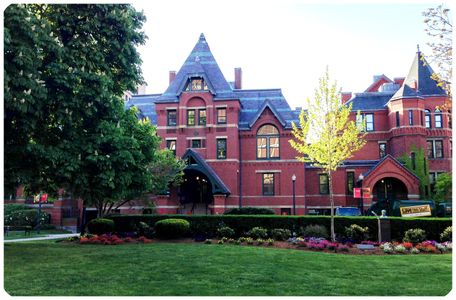 Thank you for your interest in the BU Neurology Residency Training Program. Seven positions are offered in each of the three years of the adult neurology residency program. Applications should be submitted through the Electronic Residency Application Service (ERAS) of the National Resident Matching Program (NRMP). A link to the ERAS system can be found on the NRMP website: www.nrmp.org. We prefer that candidates submit their applications as early as possible to expedite scheduling of interviews.
Applications are reviewed early in the fall after the following documentation is received:
Completed ERAS Application Form
Dean's Letter
USMLE scores
Medical School Transcript
ECFMG Certificate (only international medical graduates)
A minimum of three (3) letters of recommendation
Curriculum Vitae
Personal Statement
For international applicants who match to our program, we sponsor either a J1 or H1B visa on a case by case basis. For H1-b visas you must have completed your Step 3 prior to your visa application.
Interviews, held on Tuesdays during November, December and January, are by invitation only. During the visit, applicants meet with members of the faculty and the current residents, attend Grand Rounds and tour the facility. Additionally, they spend their lunch hour meeting a few of our residents.
We do understand the difficulties that arise in the scheduling of multiple interviews and will try to accommodate individual requests for other dates whenever possible. However, we prefer that candidates schedule visits on the specified interview dates when we are best able to present our program.
Interviewees are invited to attend a dinner with our neurology residents on the Monday evening before their interview.
Applicants interested in applying for a preliminary PGY-1 position in internal medicine at the Boston University are referred to the BU Internal Medicine Residency Webpage.
We are now linked with PGY-1 Internal Medicine Preliminary Program. Interviews are typically scheduled on the same day with Neurology interviews. Applicant will still have to rank both programs. The NRMP Match program codes are as follows:
Med-Prelim/Neurology (Preliminary): 1257140P1
Neurology (Advanced): 1257180A0
Any questions about the applications process can be directed to our residency coordinator by email or phone.
Ljiljana Popovic
Coordinator, Residency and Fellowships
Department of Neurology
Boston University Medical Center
72 East Concord St., C-3
Boston, MA 02118
Phone: 617-638-5309
Email: lpopovic@bu.edu