Research Program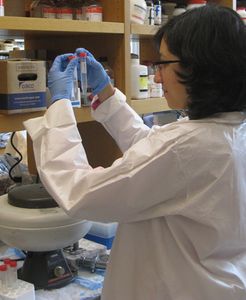 The development of unique research programs and centers of excellence has been a priority for the Section and during the past dozen years a number of specialized clinical and basic research programs have emerged. These focus on red cell biology including sickle cell anemia; immunobiology and host defenses; and mechanisms of neoplastic transformation. These programs are based in the Section, but our investigators interact closely with investigators studying cancer, blood diseases, and immunology in other sections of the Department of Medicine and other Departments and programs at BUMC including the Cancer Research Center, the Amyloidosis Treatment and Research Program, and the Women's Health Interdisciplinary Research Center.
The major sources of support include competitively funded awards from the National Institutes of Health, but also grants from the American Cancer Society, the Leukemia and Lymphoma Society, the Susan Komen Foundation, the Department of Defense Breast Cancer Research Program and Prostate Cancer Research Program, the FDA Office of Orphan Product Development, and from private foundations and donors. Research training for pre-doctoral and post-doctoral fellows is supported by a NHLBI T32 supported training program in Hematology, led by Dr. Adam Lerner, and a training grant in Immunobiology based in Microbiology. The faculty of the section also participates in research training in graduate programs in Pathology, Biochemistry, Microbiology, Pharmacology, Immunology, and Molecular Medicine.
Research on hemoglobinopathies and thalassemia includes studies of mechanisms underlying abnormal endothelial cell function in the sickle syndromes, studies on genetic modifiers of sickle cell disease severity, as studies of molecular and cellular mechanisms and clinical trials of short chain fatty acid derivative compounds, which induce fetal hemoglobin and alter cell proliferation. Elizabeth Kings, M.D., Director of the Sickle Cell Disease Center of Excellence and principal investigator of the Boston Comprehensive Sickle Cell Center, oversees clinical and basic research programs to examine the pathogenesis and treatment of sickle cell disease. These programs are carried out in collaboration with Lillian McMahon, M.D., Associate Professor of Medicine, as well as collaborators from the Genetics Program and other sections of the Department of Medicine. David H.K. Chui, MD, Professor of Medicine and Pathology, and Hong-yuan Luo, PhD, Research Assistant Professor of Medicine, both members of the Sickle Cell Program, co-direct the Hemoglobin Diagnostic Reference Laboratory to which patients' samples from across the country are referred for analysis, and which provides opportunities to study hemoglobin structure/function and globin gene expression.  Additionally, a large collaborative group made up of colleagues at BU and in Hong Kong, headed by Dr. Chui, is engaged in an extensive phenotype/genotype research on beta-thalassemia in patients in Hong Kong.
The area of immunobiology includes studies of malignant diseases of the immune system, the host response to the environment, and translational studies to harness the immune system for cancer therapy. Adam Lerner, M.D., Associate Professor of Medicine and Pathology and Richard Near, Ph.D., Assistant Research Professor of Medicine have focused upon growth control pathways in chronic lymphocytic leukemia, and novel therapeutics based upon specific phosphodiesterase inhibitors. Dr. Kevan Hartshorn, M.D., Professor of Medicine, leads a research program on the antimicrobial and antiviral activities of plasma and cell surface collectin proteins (e.g., mannose binding and surfactant proteins) particularly in relationship to the function of phagocytic cells.
Basic cancer research in the section includes studies of signal transduction, apoptosis and cell cycle control and basic genetics in the areas of breast cancer, prostate cancer, and lymphoma and leukemia. Dr. Lerner studies BCAR-3, a gene linked to breast cancer progression and metastasis, and also cAMP signaling in chronic lymphocytic leukemia and other lymphoid diseases. Gerald Denis, Ph.D., Assistant Professor of Pharmacology and Medicine, is studying leukemogenesis in mouse models and transcriptional control of the cell cycle. Cancer Research Center collaborators Sajal Ghosh, Ph.D., and Yan Dai, Ph.D., Research Assistant Professor of Medicine, examine viral oncogenesis pathways and gene regulation by histone deacetylases and other regulatory pathways in cancer, as well as signaling pathways activated by growth factors, vitamins, and hormone antagonists in normal and malignant cells.
Gary Gilbert, M.D., Chief of Hematology/Oncology at the Veteran's Administration Medical Center, is a recognized authority on inherited transthyretin amyloidosis in African Americans.
In the sphere of patient-based clinical research, Hematology-Oncology faculty members participate actively in clinical cancer trials sponsored by the Southwest Oncology Group (SWOG), the National Surgical Adjuvant Bowel and Breast Research Program (NSABP), the American College of Surgery Oncology Group (ACOSOG), and the Radiation Therapy Oncology Group (RTOG). These studies are coordinated by the Clinical Trials Office. Clinical research nurses and data managers to facilitate the conduct of clinical trials. The faculty have also continued to develop and pursue institutionally unique clinical research initiatives and partner with industry to conduct a number of industry-sponsored studies. Vaishali Sanchorawala, M.D., Associate Professor of Medicine continue to carry out progressive research protocols on the use of dose-intensive chemotherapy, supported by autologous peripheral blood stem cell transplantation, for the treatment of AL amyloidosis. They are also investigating new agents for the treatment of amyloidosis, including the thalidomide analog lenalidomide (Revlimid) and the proteasome inhibitor bortezomib (Velcade). Dr. Lerner collaborates with Jianlin Gong, Ph.D., Associate Professor of Medicine, on clinical trials of dendritic cell-based vaccines for acute myelogenous leukemia and ovarian cancer. At the Boston VA Healthcare System, Mary Brophy, M.D., coordinate national trials of anticoagulation in the VA system.