Mission:
The mission of WHIRC is to promote women's health through research and training.
Goals:
A major goal of WHIRC remains the eradication of breast cancer in our lifetime.
News:

Dr. Tracy Battaglia met with Senator Scott Brown to discuss NIH funding for Cancer Research.
Achievements:
2011 Avon Walk
Avon awards Boston Medical Center $250,000 Grant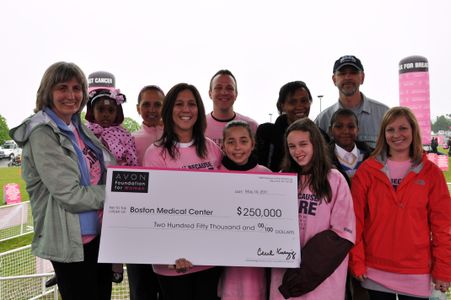 http://www1.whdh.com/news/articles/local/boston/12004312667129/thousands-turn-out-for-avon-walk-for-breast-cancer/
BU Today Article on a $9.5 million pledge for breast cancer research
http://www.bu.edu/today/2009/03/30/marshalling-resources-defeat-cancer
WHIRC members accept patient navigator grant from Avon Foundation!
From left to right: Carol Kurzig, Executive Director, Avon Foundation; Tracy Battaglia, MD, MPH, Assistant Professor of Medicine BUSM; Victoria Parker, DBA, Assistant Professor of Health Policy and Management, BUSPH; Karen Freund MD, MPH, Professor of Medicine, BUSM; Jenniffer Leyson, MA, Qualitative Data Analyst, BUSPH; and Marc Hurlbert, PhD, Senior Consultant, Grants and Partnerships, Avon Foundation Breast Cancer Crusade. To see more pictures and read about the event please click here!
Signaling group accepts grant from the Avon Foundation!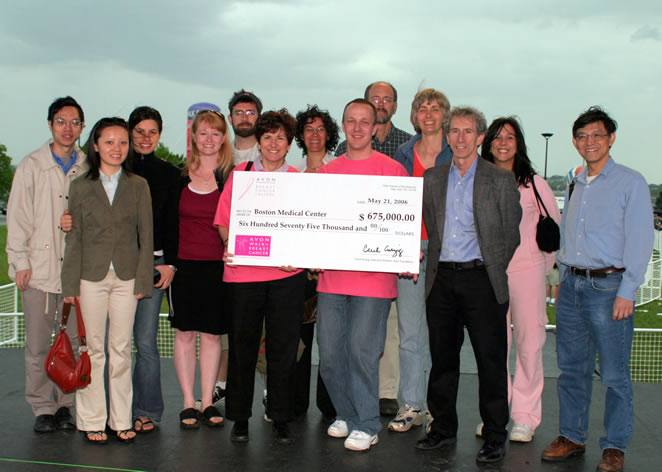 Breast cancer signaling group of WHIRC received a grant for $675,000 for 2 years from the Avon Foundation. The research will focus on elucidating the effects of environmental carcinogens on breast cancer and developing strategies for treatment.
For more information about the Avon Foundation please visit their website.