News
May 2010
The Graduate Program in Genetics and Genomics would like to recognize our students for all of their notable scientific achievements.
Russek Student Achievement Day, First Prize, Constantina Christodoulou
Mentor: Dr. Darrell Kotton
"Induced Pluripotent Stem Cells and Embryonic Stem Cells Display Similar Functional Capacity to Form Definitive Endoderm Despite Molecular Differences in Imprinted Genes."
Russek Student Achievement Day, Second Prize, Catalina Perdomo
Mentor: Dr. Avi Spira
"SFRS1 Mediates Alternative Splicing Between Nasal and Bronchial Epithelium."
Also, pictured is Becky Kusko, who is presenting a poster created from one of her rotation projects with Drs. Monty Montano and Paola Sebastiani.
"Novel Muscle Aging Gene Signature Evidence for Accelerated Aging in HIV Infection."
Well done, everyone!
April 2010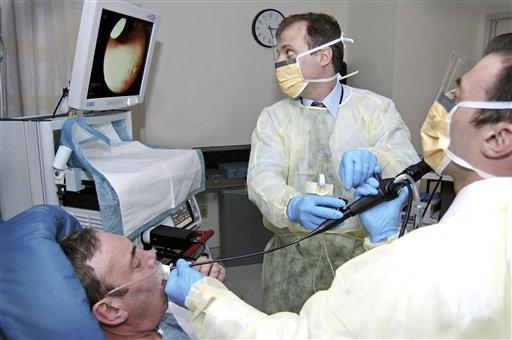 Spearheading an operation to help prevent lung cancer, Dr. Avrum Spira, a training faculty member of the graduate program in Genetics and Genomics, together with colleagues from Boston University Medical Center and the University of Utah, made an incredible advance in genomic research.  The discovery:  Genes in the PI3K pathway could be a strong indicator of susceptibility to lung cancer in smokers.  Furthermore, Dr. Spira's research also found a potent chemopreventive agent, myo-inositotol.  This compound helped keep PI3K activity low and caused significant regression of dysplasia in patients with precancerous lesions.

To read more about Spira's discovery click here for a press release , here for a feature on CBS news , or you can view the full published article: Gustafson, AM et al "Airway PI3K Pathway Activation Is an Early and Reversible Event in Lung Cancer Development" Sci Transl Med 7 April 2010: Vol. 2, Issue 26, p. 26ra25
October 2009
This week, the Graduate Program in Genetics and Genomics was very proud to sponsor the thesis defenses of two excellent students, Dr. Ihnyoung Song and Dr. Tovah Day.
Dr. Song presented her work entitled "Novel roles for the Fanconi Anemia Pathway in DNA Replication and Trans-Lesion Synthesis."
The next day, Dr. Day gave her dissertation seminar entitled "CDC7-mediated Phosphorylation of RAD18 regulates Recruitment of Polymerase Eta to Stalled Replication Forks."
Both Drs. Song and Day completed their dissertation work in the Vaziri laboratory.
Please join us in congratulating them on their scientific achievements!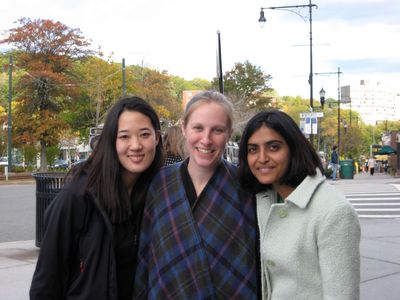 Dr. Ihnyoung Song and Dr. Tovah Day are joined after their graduations by lab-mate (soon-to-be-Dr.) Aditi Gurkar.
September 2009
The Graduate Program in Genetics and Genomics is happy to welcome our new first year students to the program! Welcome, Becky and Sarah!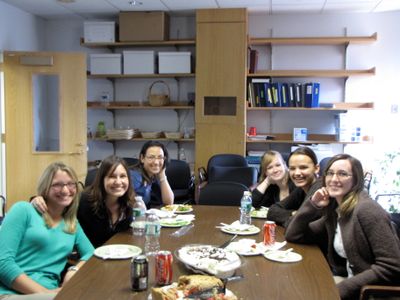 Some of our students enjoying lunch together.
From lower left (clockwise): Jessica Vick, Catalina Perdomo, Constantina Christodoulou, Kristen Ott, Becky Kusko, and Sarah Kleinsorge.
August 2009
The Graduate Program in Genetics and Genomics would like to extend our congratulations to our recent graduates. Dr. Kelly Graham (center) presented and defended her thesis work on August 18, 2009. Her work, "Identification of Distinct Gene Expression Signatures in Histologically Normal Epithelium from Patients with Different Breast Cancer Risk," was performed in the laboratory of Dr. Carol Rosenberg. Dr. Dorothy Pazin (left) successfully defended her thesis generated in the Albrecht lab entitled "Investigating the role of extracellular matrix-associated proteins in fetal gonad and reproductive tract development" on August 26, 2009. Drs. Pazin and Graham are joined by IhnYoung Song (right), a graduate student who will be defending her thesis in October. Great work, all!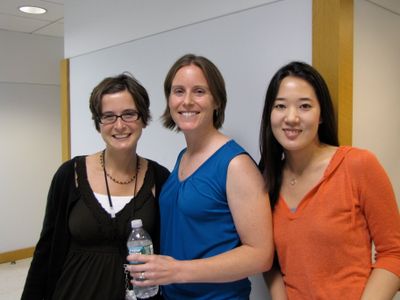 May 15, 2009
The Graduate Program in Genetics and Genomics and dissertation advisor, Dr. Landon Moore, extend our congratulations to Dr. Gerald Stanvitch on completion of his thesis work and his dissertation defense. His thesis was entitled "Investigating the Role of Cin-4, a Topoisomerase II-like Protein, in Kinetochore resolution." Well done, Jerry!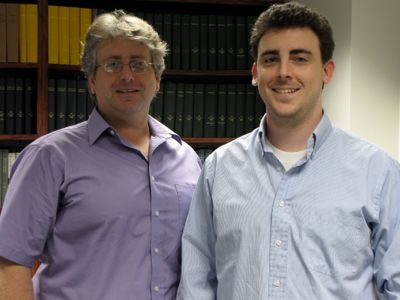 April 23, 2009
The Graduate Program in Genetics and Genomics was well represented at the 2009 Russek Student Achievement Day. Many students had their research on display, and a number of students were recognized for their outstanding thesis research, contributions to the student community, and academic excellence. Congratulations, students!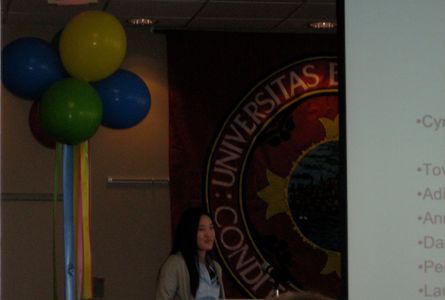 1st prize: Ihn Young Song, A Novel Role for Fanconi Anemia Pathway Effector Protein FANCD2 in Cell Cycle Progression of Untransformed Primary Human Cells
2nd prize: Tovah Day, CDC7-Mediated Regulation of RAD18 in Response to DNA Damage
Honorable Mention: Florin Craciun, Increased Local Neutrophil Recruitment Improves Sepsis Survival and Bacterial Clearance