Awards and Recognitions
Announcing a New Evans Center Fellow Award
For eligibility and details click here
The department of Medicine and its Evans Center have established a reward to recognize achievements of a successful ARC via a new Evans Center Fellow Award to support early career investigators in fields of research developed by the ARC.
The Evans Center Fellow Award Report Form can be found by clicking here
2013 Evans Center Fellow / Affiliated ARC
Dr. Tamar Aprahamian (Assistant Professor)/ Sex Differences in Adipose Tissue Biology and Related Metabolic Disease ARC
Dr. Gyungah Jun  (Assistant Professor) / Protein Trafficking & Neurodegenerative Disease ARC
Dr. Marc Liesa (Postdoctoral Associate) / Mitochondria in Health and Disease ARC

Dr. Cesar Sommer (Postdoctoral Associate) / BU iPS Bank ARC

Katya Ravid is the recipient of the 2014 Weizmann Institute Rosi and Max Varon Professorship Award.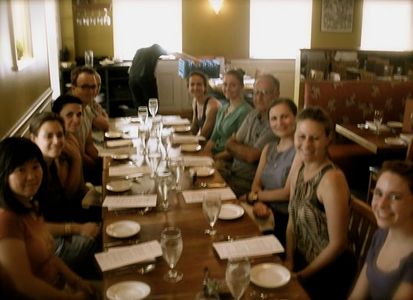 Boston University School of Medicine Robert Dawson Evans Special Contribution Teaching Award
Presented to Katya Ravid, DSc/PhD, during the Dept of Medicine's Annual Evans Days Award Dinner, October 17, 2013.
"The Department of Medicine honors you with this Special Recognition Teaching Award. For two decades medical and graduate students have benefited from your participatory and lucid teaching inside the classroom, and generous mentorship outside of it. As a champion of interdisciplinary science, you were instrumental in designing and co-leading two highly successful interdisciplinary graduate courses. For your numerous and creative contributions to the teaching mission of the department, we honor you."

Nanoscience, Evans Center, Cancer Center Nanomedicine training grant
http://www.bumc.bu.edu/2010/09/17/bu-poised-to-impact-cancer-research-cross-campus-collaboration-nets-2-million-nih-nanomedicine-grant/

Awards to Investigators:
For 2013, the Evans Center for Interdisciplinary Biomedical Research recognizes four individuals who have made special contributions to the efforts and progress of the Affinity Research Collaboratives (ARCs). This is the third year these awards have been selected (previous awardees listed below).
Awardees are decided by special committee based on nominations from their ARC directors and peers and overwhelming support of the administration.
In appreciation for timely and valuable collaborations, 2013
Mark Grinstaff, PhD, Professor, Biomedical Engineering and Chemistry, Charles River Campus 
Award: Basic Physical Sciences & Engineering Collaborator 
Karl J. Karlson, MD, Chief, Cardiac Surgery;  Clinical Collaborator
Award: Clinical Collaborator

Donald Hess, MD, Chief, Section of Bariatric Surgery
Award: Clinical Collaborator
Benjamin Wolozin, MD, PhD, Prof Pharmacology and Neurology
Award: Basic Science Collaborator
2012 Evans Center Collaborator of the Year Awards:
Dr.  Paul Pilch           Dr. Joyce Wong
Basic Biomedical      Basic Physical
Sciences                    Sciences and/or  Engineering

Dr. Gary Mitchell     Dr. Noyan Gokce
Biotech/Other         Clinical/Translational
Institutions              Sciences
Evans Center Members Receiving DOM Life Time Research Achievement Awards (2012):

Dr. Victoria Bolotina Dr. Caroline Genco
B. Corkey Banting Award/Lecture:
http://diabetes.diabetesjournals.org/content/61/1/4
DOM Evans Center Collaborator of the Year Award:
DOM Evans Center Collaborator of the Year Award is given yearly to investigators affiliated with Boston University (BU) or outside of BU, who have contributed to the Research mission of the Evans Center for Interdisciplinary Biomedical Research (ECIBR) by creating and/or significantly enhancing webs of interdisciplinary, fruitful collaborations within the Evans Center and BU. One or all of the following categories, as appropriate, will be awarded each year during DOM Evans Day or Evans Center Research Retreat: Collaborator from Basic Biomedical Sciences; Collaborator from Basic Physical Sciences and/or Engineering; Collaborator from Clinical/Translational Sciences 
2010-11 Evans Scholar Awards:
Senior Faculty: Joseph Vita, MD, Cardiology Section Vasan Ramachandran, MD, Preventative Medicine and Epidemiology Section
2010-11 Evans Junior Faculty Merit Award recipients:
Tracy Battaglia, MD, General Medicine Section Andrea Coviello, MD, Sections of Preventive Medicine and Endocrinology Naomi Hamburg, MD, Cardiology Section Ross Summer, MD, Section of Allergy, Pulmonary and Critical Care
2009-2010 Evans Junior Faculty Merit Awards recipients:
Gerald Denis, Ph.D., Cancer Center Ravi Jasuja, Ph.D., Section of Endocrinology Tuhina Neogi, M.D., Ph.D., Section of Clinical Epidemiology
April 16, 2010: Hypertension Mini-Symposium, regional event organized by the Department of Medicine and the Evans Center, Boston University School of Medicine, honoring Dr. Haralambos Gavras for distinguished research and achievements in the field of Hypertension and cardiovascular research.
March 26, 2009: Dr. David Coleman, Chair of the Department of Medicine, initiated the Evans Scholar Award, to recognize outstanding researchers at the department.  Drs. Richard Cohen and David Felson have been named the 2008 Evans Scholars.
New Research Awards:
A newly Funded CA-09-014 Cancer Nanotechnology Training Center R25
Date: June, 2010
Developed by: The Nanoscience Center, the Cancer Center and the Evans Center
(Drs. Bennett Goldberg, Douglas Faller and Katya Ravid)
PIs: Drs. Bennett Goldberg and Douglas Faller (with Drs. Katya Ravid and
Mario Cabodi as leaders of educational programs)

 New Research Awards In NanoMedicine
In September 2009, the nanomedicine working group, led at CR campus by the Nanotechnology Center and at the medical campus by the Evans Center, called for internal proposals to seed collaborative efforts in basic science and discovery in nanomedicine, with the goal to enable researchers to test new ideas, build interdisciplinary teams, and generate the preliminary data necessary for successful applications to external funding agencies. Congratulations to the following teams: Development of a semiconductor nanochannel sensor for detection of novel melanoma biomarker TROY
Remco Spanjaard; Douglas Faller; Pritiraj Mohanty; Erramilli, Shyam High-throughput screening for thyroid cancer biomarkers
Catherine Klapperich; Jennifer Rosen Probing the structure of TDP-43 Aggregation at the Nanoscale level
Benjamin Wolozin; Amit Meller Photothermal heterodyne imaging of gold nanoparticles in thick tissue enabled by two-photon absorption microscopy
Jerome Mertz; David Seldin Combination of cationic nanoemulsion and ultrasound for siRNA delivery
Tyrone Porter; David Seldin A nanoparticle encapsulated photo-sensitizer system for targeting, localizing, imaging and treating local and metastatic tumor in one platform
Rahul Ray; Tyrone Porter Real-time Analysis of Pathogen RNA-Protein Interactions at a Single RNA Molecule Level
Bjoern Reinhard; Rachel Fearns; Caroline Genco Novel Dynamic Vascular Models on a Chip
Matthias Schneider; Martin Steinberg; Adam Lerner Analysis of the role of AND-34/BCAR3 and p130Cas/BCAR1 in tensile deformation and re-organization the extra-cellular matrix
Michael Smith; Adam Lerner Bi-functionalized Asymmetric (Janus) Nanoparticles for Endothelial Target-Specific Molecular Imaging and DNA/siRNA Delivery to Detect and Treat Cardiovascular Disease
Joyce Wong; Victoria Herrera Micro-engineered Nanoparticles for the use of Multi-spectral Magnetic Resonance Imaging (MRI) Contrast Agents
Xin Zhang; Stephan Anderson; James Hamilton