Mobile Laboratory Coalition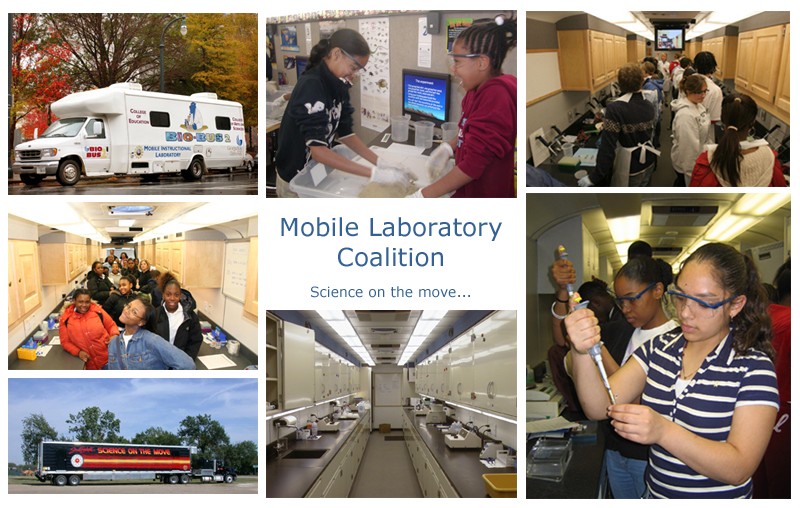 Connecticut's BioBus | South Dakota's Science on the Move
University of North Carolina's Destiny | Fattah Learning Lab
Maryland's MdBioLab | Boston University's MobileLab
Venter's Discover Genomics! | Georgia State's Bio-Bus
Visit the Mobile Laboratory Coalition Website!
What is our vision?
As the role and importance of science and technology in society increase, so does the need for an educated populace capable of fulfilling highly skilled jobs and of making informed decisions. The purpose of the MobileLab Coalition is to create a network of mobile laboratory programs that provide equal access to authentic laboratory-based  education  for students (K-16), teachers, and the general public featuring  state of the art science laboratory and computer technology.  The flexibility and accessibility of mobile laboratories provide equal opportunities for ALL students to laboratory-based science education.  This is particularly pertinent for disadvantaged populations who are often not represented in the science and technology workforce because of limited access to educational resources in science and technology.
Who are we?
The MobileLab Coalition is comprised of mobile science education programs committed to providing equal access to laboratory resources for the development of scientific literacy. Its membership consists of parties who have or are planning to develop a mobile laboratory outreach program for science education.  Mobile Laboratories refer to self-contained, traveling laboratories that accommodate student participation in laboratory investigations on board the mobile laboratory unit.  Each program will include a partnership between scientists and educators to insure the scientific integrity and pedagogical effectiveness of learning opportunities. The coalition addresses science education broadly to include biology, chemistry, physics and earth sciences.  The goals of the MobileLab Coalition are as follows:
Develop and disseminate a national network of mobile laboratory programs with a common vision and shared curriculum.

Assist and advise developing mobile laboratory programs.

Collaborate with local and national agencies to raise funds and support for the dissemination of mobile laboratories.

Set a high level of standards for the quality of mobile laboratory programs.