Recognize Your Favorite Centenarian and their Birthday!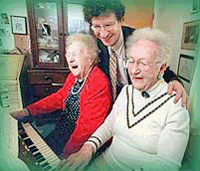 Recognize Your Favorite Centenarian's Birthday!
Below are programs to recognize the accomplishment of Centenarian birthdays. We can get you in touch with local recognition programs, including annual celebrations in honor of centenarians.
To find out about your state's recognition programs, please use our contact page or call us toll free at: 1-888-333-6327.
-To have the birthday announced on the Today Show with Willard Scott:
Send a written request with a photo, birth date, something unique/personal about the person (ie. hobbies, accomplishments) and a contact telephone number to (centenarians are picked randomly to be recognized on the show):
Willard Scott
c/o Today
30 Rockefeller Plaza
New York City, New York 10112
-To receive a greeting from President Barack Obama send your request to:
The White House
Attn: Greetings Office
Washington, D.C. 20502-0039
Or you can request by fax at 202-395-1232.
When requesting, they ask you include the following information:
Name and home address of honoree(s);
Form of address (Mr., Ms., Mrs., Dr., Miss, etc.);
Exact date of birthday (month, day, year);
Age;
Your (the requestor's) name and daytime phone number;
Any specific mailing instructions if other than to honoree's address.
-To receive a greeting from the Queen of England (for British and Commonwealth residents):
Send copy of birth certificate/proof of age to-
Assistant Private Secretary
Buckingham Palace, London
SWIA IAA
Write "Anniversary" in top left hand corner of envelope
-"CENTENARIAN BOUNTY" recognition for Irish Centenarians, visit the following website:
http://www.oasis.gov.ie/retirement/benefits_and_entitlements_for_older_people/centenarians_bounty.html