Outpatient Care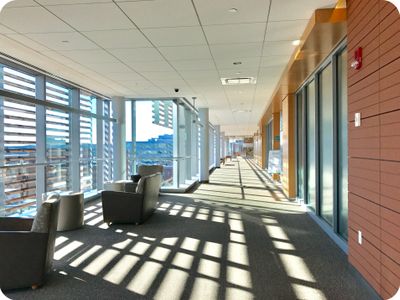 Boston Location
Boston University Neurology Associates
Boston Medical Center
Shapiro Ambulatory Care Center
725 Albany St., 7th Floor
Boston, MA 02118
Phone: (617) 638-8456
Fax: (617) 638-8465
Weymouth Location
Boston University Neurology Associates
541 Main Street, Suite 317
Weymouth, MA 02190
Phone: (617) 638-9944
Fax: (781) 337-2891
If you or your physician suspects you have Parkinson's disease or another movement disorder, or if you have already been diagnosed, you may schedule an appointment for a comprehensive evaluation from one of our movement disorder specialists. Care focuses on diagnosis, treatment, and follow-up. Treatment strategies include medication management, evaluation for surgical therapy, and implementation of supportive services.
We welcome and encourage family members to accompany you to your visit.  Nurse Specialists, a social worker, and a neuropsychologist are available to enhance the care provided by the Movement Disorder Neurologist. In addition referrals are provided to rehabilitation specialists in Physical Therapy, Occupational Therapy, and Speech Therapy.
Interpreter services are available in 17 languages. Please tell our staff if you need assistance with this service.
We will provide consistently excellent and accessible health services to all in need of care.
For information on patient appointments and treatment throughout the developing COVID-19 situation, please click here to see a note from our physicians. If you need any help setting up Zoom, click here to see a tutorial from the APDA.
Scheduling an Appointment
To schedule an appointment at the Boston office, please contact our patient scheduler at (617) 638-8456.  The office is open Monday through Friday, 9:00am to 5:00pm.
To schedule an appointment at the Weymouth office, please contact our patient schedulers at (617) 638-9944.
For your convenience, download the outpatient clinic form and the Parkinson's disease Questionnaire.
First-Time Appointments
It is helpful to have your medical records forwarded to the neurologist prior to your visit. It is also helpful to have the required forms filled out prior to your arrival at the clinic (see these forms under the "Scheduling an Appointment" section of this page).
In addition to this form, it is important that you bring a complete list of current medications you are taking, doses, and times for each medication.  To assist you with this, download the medication schedule.
Directions to our Office
Our Boston office is now located at Boston Medical Center, Shapiro Ambulatory Care Center at 725 Albany St., 7th Floor.
Our office in Weymouth is located at 541 Main Street, Suite 317 in Weymouth.
Directions to Boston and Weymouth Offices
Parking Information
Garage parking is available at 710 Albany Street.  This is located across the street from the Shapiro Ambulatory Care Center.  There is a drop off location at the side entrance of the Shapiro building.  Drivers can then proceed down the drive to take a right onto East Concord St. and enter Albany Street garage straight ahead at light.
There is a large parking lot with valet parking behind the Weymouth Building that is accessible from West Street and Front Street.
Questions or Prescription Refills
To request a prescription refill or if you need to access our twenty-four (24) hour on-call service, please contact our office at (617) 638-8456.
For additional information on our care center please call (617) 638-7737.
Inpatient Care

Occasionally, individuals with movement disorders require inpatient hospital care. This care is provided at Boston Medical Center. Reasons for admission include treatment of acute changes in Parkinson symptoms, medical management of Parkinson's symptoms, surgical Intervention, or the presence of co-existing conditions. Patients are admitted directly to the neurology service or to a different medical or surgical service depending on the admission diagnosis.
In addition to care provided by the attending physician, the patient may be evaluated in the hospital by the movement disorder fellow and movement disorder attending handling consults. Deep Brain Stimulation patients are also evaluated by a movement disorder neurologist during their admission.
The patient is evaluated and treatment recommendations are made. The patients are referred to the best available outpatient rehabilitation services as available and appropriate. Several of the movement disorder physicians may continue to follow the patients in the rehabilitation facilities with which Boston Medical Center is affiliated.
Boston Medical Center has a comprehensive inpatient guide which can be viewed on their website.
Dr. Stephanie Bissonnette also provides consultation to Parkinson's disease and movement disorders patients receiving acute rehabilitation at Encompass Health Rehabilitation Hospital of Braintree.
Useful Links
Professional Support
Research Support
Patient and Lay Support