Parkinson's Disease Center


The BU Parkinson's Disease Center was established in 1978. It consists of several programs that have been designed to offer comprehensive care to individuals and their families. Committed long-term contact provides patients who participate in the Center with individualized care and access to the newest developments rising from research and education programs. In addition to specialized clinical care, individuals may choose to participate in the latest clinical trials investigating new medications and therapies treating Parkinson's disease.
The Center offers the most current and innovative medical and surgical treatments available. Individuals who suspect they have Parkinson's disease or have already been diagnosed with PD receive a comprehensive evaluation from a movement disorder specialist. A plan of care is developed which involves medication management, patient and family teaching and referral to rehabilitation specialists or special programs. Botulinum toxin injections are administered to individuals with focal dystonias, torticollis, hemifacial spasm, and hyperhidrosis (excessive sweating).
In addition to outpatient clinical care, specialized programs exist including the DBS Surgical Program.  Center staff collaborate with Boston University College of Health and Rehabilitation Sciences: Sargent College Center for Neurorehabilitation.
The Parkinson's Disease and Movement Disorders Center at Boston Medical Center has been designated a Parkinson's disease Information and Referral Center and a Center for Advanced Research by the American Parkinson's Disease Association. Complementary research programs exist in neurogenetics, experimental neuropathology including animal models of neurodegenerative disease, neurological epidemiology, neuropsychology, neurotoxicology, and Molecular neuropharmacology. Faculty and staff are active members of the Parkinson Study Group, a consortium of academic and clinical research centers.
For additional information or to schedule an appointment please call (617) 638-8456 or (617) 638-7737 and ask to speak to a coordinator of the PD program.
APDA Information & Referral Center

The Information & Referral Center, located at Boston University Medical Center, was established by the American Parkinson Disease Association in 1980. This Center serves as a resource for those with Parkinson's disease and their loved ones as well as healthcare providers. Patients, caregivers, healthcare providers and the greater community can receive support regardless of their affiliation with Boston University Medical Center or any other medical facility.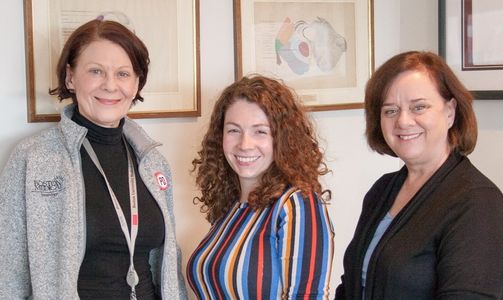 Services provided by the APDA Information and Referral Center include:
A telephone helpline (617-638-8466 or 800-651-8466)
A comprehensive resource referral network
Support group assistance
Publications
Educational symposia
Counseling and guidance
Information updates to those on the Center's mailing list through newsletters and other special event announcements
Training and support for healthcare professionals
Other services provided by the Information and Referral Center
Implementation of regional conferences
Participation in community awareness and public relations activities
A Monthly Electronic Newsletter
Maintenance of a state-wide website: www.apdama.org
If you would like to visit us in person, or for questions regarding education, support groups, conferences, community activities, etc., please call the APDA Information & Referral Center at (617) 638-8466 or (800) 651-8466.
APDA Massachusetts Chapter website
Center for Neurorehabilitation at Boston University, Sargent College of Health & Rehabilitation Sciences

The Center for Neurorehabilitation at Boston University, Sargent College of Health & Rehabilitation Sciences is comprised of a team of clinicians and researchers with expertise in rehabilitation and movement science.  The Center offers clinical, educational and research opportunities to persons with Parkinson's disease.  Rehabilitation programs have been developed based on best evidence from the literature including the research conducted within the Center for Neurorehabilitation in collaboration with the BU Parkinson's Disease and Movement Disorders Center.
Comprehensive consultations with a physical therapist are offered and individualized treatment programs are developed.  Exercises designed specifically to address issues commonly experienced by people with Parkinson's disease are incorporated into rehabilitation programs.  In addition, community wellness programs for people with Parkinson's disease have been developed and are currently implemented at the Center for Neurorehabilitation and in a variety of local communities.  Educational programs are conducted periodically both for health care professionals and for people with Parkinson's disease. Please see the Center for Neurorehabilitation website or call (617) 353-7525 for additional information.