Education and Training Program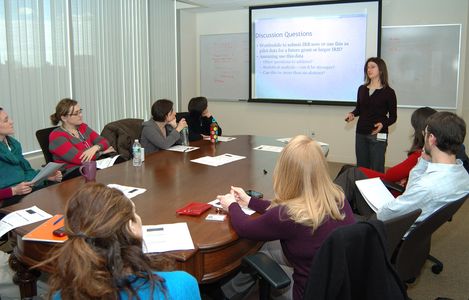 Research training consists of both formal didactic instruction in research methods at the Boston University School of Public Health, fellowship research seminars and the performance of supervised research projects. The fellowship has a robust series of seminars that complements the SPH courses and provides an opportunity for learning, interaction and feedback from other fellows and faculty members.
Fellowship Specific Meetings
RESEARCH LITERATURE APPRAISAL 
In this monthly meeting, fellows critically review a published article, using published JAMA guidelines. Through this training, fellows learn to sharpen their methodological skills and their ability to read the medical literature critically through the evaluation of diverse research methodologies and subjects.
WORK IN PROGRESS
This monthly research-in-progress is an opportunity for each fellow to present his/her own research, in any phase, to peers. Two fellows present at each meeting. The seminar is designed to help nurture the fellow's research during each of its phases. It complements the departmental Research-In-Progress Seminars.
ACADEMIC SEMINAR
Fellows participate in the Developing Your Research Career seminar series presented by the CTSI.  This bimonthly seminar is supported by a Boston University Medical Campus grant from the NIH to improve clinical research training for faculty and fellows in all disciplines, including medical specialties, surgery, dentistry, etc. The seminar is a forum for clinician-investigators to discuss methodology used in clinical research through didactic seminars and examples from their own research and experience. The series cover selected topics that relate to the fellows' future academic career including grant writing, writing an abstract, presenting an abstract, presenting a poster, writing a manuscript, attending a national conference, networking, resume writing, and academic primary care careers.
EDUCATION SEMINAR
In this monthly meeting, fellows address education theory and skill applicable to clinical teaching in a variety of clinical settings educational environments (one-on-one supervision, small group discussion and lectures). The topics covered in the teaching seminars are covered over a two-year cycle.
Supervised Research Projects
An essential part of the research training is supervised research experience. Fellows are expected to perform at least one supervised hypothesis-driven research project with the goal of presenting the work at professional meetings and publishing their results in a peer-reviewed publication. At the beginning of the Fellowship, fellows meet with faculty, in order to define research projects and select one or more faculty as research supervisors. A Faculty Roster helps the fellow identify individuals who have similar research interests, ongoing research projects and available databases and other resources. Fellows select projects based on their interests and career goals, tempered by considerations of educational value and feasibility. Resource faculty in biostatistics, epidemiology, decision analysis, health services research, health economics, computer science, and ethnographic methods collaborate and consult with fellows in their research.
There are active research programs which are ideal settings for fellows to conduct research under supervision in all of the participating institutions, including Boston University Schools of Medicine and Public Health, Boston Medical Center, Veterans Administration Medical Center, the Massachusetts Department of Public Health, and the Boston Public Health commission. Each of these sites offers fellows special opportunities for conducting research to match their interests.
At the Edith Nourse Rogers Memorial VA Hospital (the Bedford VA), there is a large Health Services Research and Development Field Program and a Geriatric Research, Education and Clinical Center. GIM faculty have major roles in these programs and supervise fellows in research projects. In addition, the Boston VAMC has developed innovative programs for ambulatory care which provide excellent settings to investigate health services delivery and medical education issues.
In conducting research, the fellow will have to carry out tasks often performed by a research assistant in a funded project: data collection, data abstraction from clinical records, data coding, computer data entry and file manipulation, and computer programming for statistical analysis. We believe it is important for fellows to perform, under supervision, research assistant tasks so that they are aware of the steps required to perform research. In the long run this experience should enable them to better design future studies and better supervise them. Nonetheless, the faculty can and will provide their staff to assist the fellow, primarily by helping him/her learn how to perform these research tasks. They may help in the design of data collection forms, in the manipulation of data files, in determining which statistical tests to use, and in running computer-based statistical routines. In all instances, a full-time faculty member from General Internal Medicine, General Pediatrics, or Family Medicine oversees the research experience of the fellows.