James Hudspeth, MD Named as Champion of Humanistic Care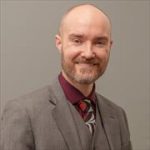 In honor of the great humanism they displayed during the COVID-19 crisis, James Hudspeth, MD was one of three of health care providers at BMC named Champions of Humanistic Care by the Arnold P. Gold Foundation, which promotes compassionate, collaborative, and scientifically excellent care.
James Hudspeth, MD, FACP, Associate Director of the Hospital Medicine Unit and Associate Program Director of the Internal Medicine Residency Program, was honored for his role in helping to spearhead BMC's COVID-19 response. Throughout the pandemic, he advocated for patients and providers alike, helping to improve access to video devices for patients and improved tools and support for staff and providers.
Thank you James for all of your contributions and efforts during the COVID-19 crisis!