Elizabeth Hutton, MD, Receives Stanley L. Robbins Award for Excellence in Teaching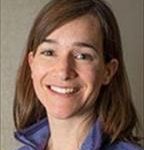 Elizabeth Hutton, MD, assistant professor of medicine and pediatrics, has been recognized with BUSM's highest teaching honor, the Stanley L. Robbins Award for Excellence in Teaching.
The annual award honors an outstanding educator and acknowledges the importance of teaching skills and commitment to students and education. It was established in recognition of the exceptional teaching and devotion to students exemplified by Stanley L. Robbins, MD, former professor and chair of pathology.
"Dr. Hutton is simply superb as an educator and at giving feedback," said a BUSM colleague. "Students routinely tell me that she gives them some of the most detailed, specific and actionable feedback. In addition, she is a strong advocate for our students. Whether there is a struggling student on service or one who excels, Dr. Hutton finds ways to support those who need help and makes time in her busy schedule to independently reach out to residency programs to offer her words on behalf of applicants so that they can achieve their residency program aspirations."
Another colleague describes her as possessing the characteristics that all educators should have—engagement in student learning, a clear sense of student expectations, ability to provide specific feedback to learners and willingness to create and enact an action plan to help learners improve. "Her ability to identify struggling learners in a timely fashion and report it to course leadership along with an action plan of steps to help the learner improve, has been so valuable to assisting our students to meet their expectations."
Hutton serves as the medical director of the pediatric inpatient unit at Boston Medical Center. According to a colleague, she is attentive to educational concerns from an administrative level in her role running the inpatient service. "Over the years she has innovated ways in which hospitalist faculty can contribute to education and has routinely gone above and beyond in her consideration for how to set up a service that can really assess the competency of medical students," added another colleague.