Sandra Looby-Gordon, MD received The Leonard Tow Humanism in Medicine Award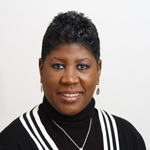 Sandra Looby-Gordon MD, has been chosen as the recipient of the Leonard Tow Humanism in Medicine Award presented by the Arnold P. Gold Foundation. This award is presented to faculty who best demonstrate the foundation's ideals of outstanding compassion in the delivery of care, respect for patients, their families and health-care colleagues, as well as clinical excellence.
A clinical associate professor of medicine who has served on the faculty since 1992, Looby-Gordon is a primary care provider who also treats complex patients with substance use disorders. She is known for her empathy toward patients and colleagues, and is a role model for her trainees to whom she has taught primary care, inpatient general medicine, addiction medicine and culturally competent care. In her own words, her goal is to provide excellent care with compassion and respect regardless of her patients' zip codes.
Cherished by her colleagues, patients, and medical students alike, Looby-Gordon embodies the qualities of compassion and empathy as a caregiver and approaches teaching with sensitivity and openness. A nurse colleague said, "She's an incredible human being and always treats her co-workers and patients with dignity and respect. She goes above and beyond for her patients and is very knowledgeable, patient and kind."
A physician colleague said, "I love having the opportunity to precept residents with her or participate in a case conference with her. Being in her presence, you always feel the warmth and caring for the patients, her trainees, and her colleagues."
Evaluations from medical students and residents demonstrate her superlative personal and professional skills. "Dr. Looby-Gordon was a pleasure to learn from as she instantly made students feel at ease and capable of performing their clinical duties without fear." Another said, "I felt she valued my opinions and thoughts on rounds." Comments from residents include, "Very caring about the patients, always addressing their social determinants of health as well." From one of her patients, "She has been my doctor for almost 20 years. She is friendly and easy to talk about problems with."
The Arnold P. Gold Foundation is a public, nonprofit organization founded by Drs. Arnold and Sandra Gold to perpetuate the tradition of the caring doctor by emphasizing the importance of the relationship between the practitioner and the patient. Our objective is to help physicians-in-training become doctors who combine the high tech skills of cutting edge medicine with the high touch skills of effective communication, empathy and compassion.