Location and Accommodations
Wylie Inn and Conference Center, Beverly, Massachusetts.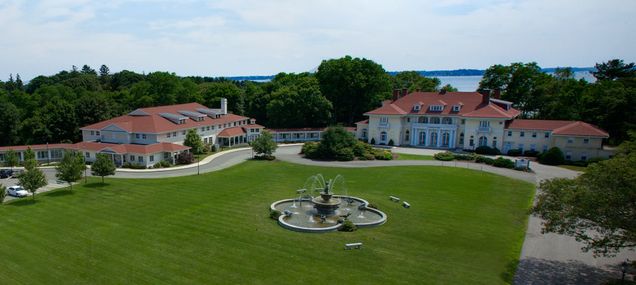 Wylie Inn and Conference Center at Endicott College is a 50 minute drive from Boston and on the grounds of Endicott College. Located just 2 miles from the center of Beverly, MA and situated on a scenic section overlooking the ocean, the Wylie Inn and Conference Center currently consists of multiple buildings that all share in a unique history that is interwoven with the growth and history of this great New England college campus. Unique among New England Inns, the Wylie Inn successfully balances the intimacy one associates with traditional New England Bed and Breakfasts, with state of the art amenities. Read more about the history of Wylie Inn.
Didactic sessions occur in their newly renovated conference center  During free time, participants may linger at the beach, take advantage of the gym, or explore Salem.
Transportation from Logan Airport in Boston to The Wylie Inn will be via bus.   A chartered van will transport attendees to Logan Airport at the close of the CRIT/FIT/CFS Program. Those who wish to utilize other transportation methods to or from Logan Airport will be responsible for their own transportation costs*.
To request reasonable accommodations for a disability please notify Ve Truong, in writing, at least two weeks prior to the conference.
*The CRIT/FIT Program will only cover the cost of round trip airfare to and from CRIT/FIT (Boston) and the original city of departure. If you wish to travel to a destination other than your original city of departure, you will be responsible for any additional costs incurred. If a Fellow is accepted to the program and cancels their participation to CRIT/FIT for any reason after the flight is booked, they will be responsible for the full cost of the flight, including all fees associated with the cancellation.