Stanley H. Ducharme, PhD
Clinical Professor, Urology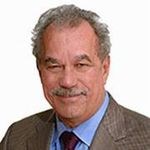 Biography
Dr. Stanley Ducharme is a clinical psychologist and a diplomat in sex therapy at the Center for Sexual Medicine at Boston Medical Center. Along with a team of medical professionals, Dr. Ducharme provides clinical services to men and women who have a wide variety of sexual dysfunctions. In addition, he is a Clinical Professor of Urology at Chobanian and Avedisian School of Medicine.
Since 1976, he has been a member of the active medical staff at Boston Medical Center and has collaborated with various academic departments including urology, endocrinology neurology, psychiatry and rehabilitation medicine. His clinical interests are in coping with a physical or neurological disability, substance abuse, sexual addictions, sexual dysfunction, transgender issues and the sexual aspects of disability.
Prior to coming to Boston, Dr. Ducharme completed a post doctoral Fellowship in Clinical Psychology at New York University Medical Center. He is twice past president of the American Association of Spinal Cord Injury Psychologists and Social Workers and a member of the Board of Trustees of the Education and Training Foundation of the Paralyzed Veterans of America. In addition, he is a past member of the board of trustees of the Commission on the Accreditation of Rehabilitation Facilities. Dr. Ducharme is a Fellow of the American Psychological Association and a member of the Education Committee of the International Spinal Cord Society. He is editor emeritus of the Journal of Sexuality and Disability and contributes columns and articles related to various aspects of sexual health.
Dr. Ducharme's current interest is the development of clinical practice guidelines on the delivery of psychosocial and sexual health services to people with physical disabilities in developing countries within Africa and Southeast Asia.
Education
United States International University - Africa (USIU) 

, PhD

University of Bridgeport

, MS

Sacred Heart College

, BA