Natalie P. Joseph, MD, MPH
Clinical Associate Professor, Pediatrics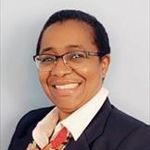 Biography
I am an award-winning Clinical Associate Professor in Pediatrics at Boston University Chobanian and Avedisian School of Medicine specializing in Adolescent Medicine at Boston Medical Center. I am devoted to developing and championing multi-generational and dyadic strategies for both population-based prevention and patient-centered care
I am an expert in the area of adolescent parenting, as well as in primary and secondary HPV-related cancer prevention, especially cervical cancer prevention.
My career is dedicated to improving health outcomes for our underserved, high-risk, immigrant, low-income, and vulnerable populations, particularly reducing health disparities in:
1) HPV-related cancer, especially in cervical cancer, and in
2) Adolescent prenatal care, birth, maternal and child health outcomes, trauma and adverse events.
My research focuses on HPV vaccine initiation among low-income and minority population in public healthcare settings. My work to address racial/ethnic disparities in HPV vaccination rates in children, adolescents and mid-adults and in cervical cancer screenings in adult women has made me a world leader in HPV-related cancer prevention among minority communities.
Presently I am the Principal Investigators on 2 HPV vaccine studies funded by Merck MISP entitled: 1: An exploratory open-label clinical trial evaluating the immunogenicity and safety of the 9vHPV 2-dose vaccine regimen in children aged 4-8 years. This is the only study presently in the US: (https://www.bmc.org/hpv-vaccine-4-8-year-olds); 2) An Open-label Clinical Trial Evaluating the Immunogenicity of the 9vHPV Vaccination Regiment over 6 months Among Women Aged 16 to 45 years (https://www.bmc.org/research/open-label-clinical-trial-evaluating-immunogenicity-9vhpv-vaccination-regimen-over-6-months-amon.
I am presently a Co-Investigator on an HPV vaccine study adapting the Embodied Conversational Agent (ECA) technology to produce English and Spanish smartphone ECAs for HPV vaccination (ECA-HPV) to provide vaccine recommendations and motivational interviewing to parents/guardians and vaccine-eligible adolescents and facilitate communication with clinic staff. We will evaluate ECA-HPV in a randomized controlled trial for HPV-vaccine eligible adolescents aged 9-12 to evaluate ECA-HPV, comparing usual care versus usual care plus four design variants of the ECA-HPV.
My leadership work on HPV-related cancer prevention has led to dissemination of 25 publications, supported by eight grants (2 NIH, 5 foundation, 1 industry) on this topic since 2007.
As of July 2022, I transition to being the former Medical Director of the Teen and Tot clinic, a comprehensive case management program serving nearly 400 mother (ages 23 and under) and child dyads yearly. I started as Medical director of the Teen and Tot program in 2001 and we have had sustained funding by the Boston Public Health Commission since 2005.
I founded the Teen Centering Parenting Initiative at Teen and Tot in 2016. Teen Centering Parenting is an innovative, family-centered well-child medical group that has the potential to impact both adolescent mothers and fathers, and their children across many physical, psychosocial, health and healthcare conditions.
Following the success of Teen and Tot Clinic, I facilitated the founding of the Teen and tot student run clinic for medical students in 2018. This program provides adolescent mother and child health at Boston Medical Center, by medical students. Medical students actively engage in patient-centered medical care under my supervision.
My work with medical students have led to my selection of Boston University School of Medicine June's 2022 Distinguished faculty of the month https://www.bumc.bu.edu/busm/2022/06/01/natalie-pierre-joseph-md-mph-named-junes-distinguished-faculty-of-the-month/
I have recently been involved in a COVID-19 Community Engagement Alliance research related work targeting our vulnerable populations in Boston, as well as exploring COVID-19 Vaccine Attitudes and Message Preferences (CAMP) to generate strategies tailored to different groups, sites addressing the stark disparities in pediatric COVID-19 vaccine uptake in Boston among our communities of color, identifying ways we can approach and tailor COVID-19 vaccination messaging while changing the narrative around vaccine confidence.
Since July 2022 I have been working with the Boston Public Health Commission's (BPHC) Bureau of Infectious Diseases, Division of Education and Community Engagement as a vaccine Promoter to strengthen BPHC's internal capacity and support of community and clinical partners to increase the uptake of the pediatric COVID-19 and flu vaccine among communities of color in Boston.
Overall, I am a proven cross-functional team leader, researcher and mentor who has sought to advance medical care and equity, as well as maximize students' learning potential. I think critically and pursue innovative approaches to maximize the health of my patients and their families and that of vulnerable population in our community.
Education
New York Medical College

, MD

New York Medical College

, MPH

Wesleyan University

, BA