Edward Bernstein, MD
Professor, Emergency Medicine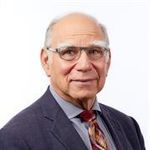 Biography
Expertise and interests include:
1)Research to improve the care of at risk and dependent alcohol and drug users in the medical setting.
2)Role of community health workers/health promotion advocates in the medical setting.
3)Reducing STI among cocaine and heroin users.
4)The role of motivational interviewing to improve the patient physician encounters/relations.
For the past twenty-five years Dr. Bernstein has pioneered methods to integrate public health into emergency medicine practice, developed and disseminated systems of emergency care that enhance health communications between providers and patients, and extensively tested a comprehensive model for intervention in which physician extenders help steer patients with preventable conditions to appropriate services. Dr. Bernstein was the founder (1987) of the Emergency Medicine Residency at the University of New Mexico, which incorporated problem based learning, and public health into the residency training. In 1996 he co- edited the textbook, "Case Studies in Emergency Medicine and the Health of the Public."
Over the past seventeen years, Dr. Bernstein has developed a body of NIH sponsored research to test the application of motivational interviewing to improving health communications and outcomes to reduce sexual risk behavior among ED patients with cocaine and heroin abuse, reduce adolescent alcohol and marijuana use and, in a 14 site Academic ED study, reduce at risk and dependent alcohol use. He also tested the Project ASSERT model, the nation's first SBIRT program, in a trial of a brief motivational intervention delivered by peers to cocaine and heroin users. Together with Dr. Judith Bernstein, he leads the Boston University School of Public Health's BNI-ART Institute which provides technical support and training in motivational interviewing, the peer model and system change and research design for providers in a variety of medical settings. Organizations served by the Institute include: RWJ Join Together, the National Institute of Alcohol Abuse and Alcoholism, SAMHSA , the Massachusetts DPH Health's Bureau of Substance Abuse Services, NYC Department of Mental Health and Hygiene, Howard University Medical College's Residency SBIRT Program, Yale New Haven Emergency Department's Project ASSERT, and Partners In Health PACT program.
Other Positions
Emeritus Professor

,

Community Health Sciences

,

Boston University School of Public Health
Education
Stanford University

, MD

Columbia College

, BA