Cyndie S. Hatcher, MD
Assistant Professor, Pediatrics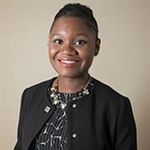 Biography
Cyndie Hatcher, MD is an Assistant Professor of Pediatrics in Ambulatory Care Services at the Chobanian and Avedisian School of Medicine. During her undergraduate years at Duke University, she received research fellowships from the university and Goldman Sachs. Dr. Hatcher was also inducted in two honors societies for chemistry majors. After completing her MPH, she was named a Millennium Health Leader by the Center for Disease Control and Prevention and was recently a Gold Humanism Honor Society Inductee.
Education
Harvard Medical School

, MD

Harvard School of Public Health

, MPH

Duke University

, BA
Publications
Published on 6/6/2022

Alexander SP, Kim IC, Hatcher C, Suh HS, Ha Y, Marcil LE. Embedding Financial Services in Frequented, Trusted Settings: Building on Families' Pre-existing Economic Mobility Efforts. J Dev Behav Pediatr. 2022 Sep 01; 43(7):e442-e451. PMID: 35943377.

Read at: PubMed

Published on 2/17/2022

Zuckerman B, Edson K, Mesite L, Hatcher C, Rowe M. Small Moments, Big Impact: Pilot Trial of a Relational Health App for Primary Care. Acad Pediatr. 2022 Nov-Dec; 22(8):1437-1442. PMID: 35182793.

Read at: PubMed

Published on 1/1/2011

Seraphin C, Lieberman, G . A 4 year old with hip pain: Legg-Calvé-Perthes Disease. Lieberman's eRadiology Learning Lab. Cambridge. 2011.

Read at: Custom

Published on 1/1/2008

Truong, N., Sauer, S.J., Seraphin-Hatcher, C., Coltart, D.M. Direct carbon–carbon bond formation via reductive soft enolization: a syn-selective Mannich addition of a-iodo thioesters. Org. Biomol. Chem. 2008; 7864-7868.