BUMC Educators Build Habits for Inclusive Classroom Spaces at 17th Annual John McCahan Medical Campus Education Day
"Action" was the word of the day at the 17th Annual John McCahan Medical Campus Education Day, hosted in-person in Hiebert Lounge on May 25.
This year's conference, themed "Advancing Intercultural & Inclusive Practices in the Classroom," focused on creating sustainable habits to shape more equitable learning environments across the Medical Campus.
The program featured a keynote address from Liza A. Talusan, PhD, an educator and strategic change partner with more than 25 years of experience in pre-K through doctoral education. Her discussion centered on taking identity-conscious approaches to classroom education and sharing tools to help educators make changes in their leadership, teaching and learning. "Who people are informs what they do, how they act and interact with others and how they see the world around them," Talusan said.
Talusan is a faculty member in the Department of Educational Leadership at the University of Massachusetts Boston, where she teaches masters and doctoral students. Later in the day-long conference, she hosted a "Decision Making for Change" workshop that helped attendees identify issues in their work and create action plans to solve them.
The four additional McCahan Day workshops were:
Pointing Out Your Power: Practical Tips for PowerPoint Slide and Presentation Design (Salik et al., GMS, MS in Health Professions Education and BUSM)
Opening the Pandora's Box of "Confidence" in Feedback (Ananthakrishnan & Noronha, BUSM)
Effective educational videos with embedded problem-solving and targeted feedback: Hands on walkthrough of how to produce and deploy question embedded videos (Pulukuri et al., BUSM, CAS and Wheelock)
From Passive to Active: Methods for Engaging Learners (Garg et al., BUSM)
Following lunch and an opportunity to visit with McCahan Day vendors, students and faculty from each BUMC school hosted a panel presentation to discuss efforts toward creating inclusive campus and classroom spaces, as well as suggestions for what work still needs to be done.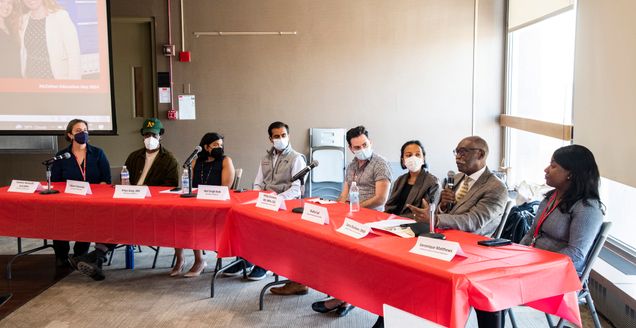 BUSM Associate Dean for Medical Education Priya Garg, MD, agreed that constant education is necessary to foster inclusive spaces. She was joined by BUSM student representative Neil Singh Bedi, who leads Creating Leadership and Education to Address Racism (CLEAR)."Anti-racism is a lifestyle change," said Larry Dunham, DMD, assistant dean for diversity, equity, inclusion and belonging at the Henry M. Goldman School of Dental Medicine, who discussed mentorship as a tool for mitigating racism and encouraged attendees to reflect and constantly train themselves on these issues. Dunham represented GDSM alongside student Veronique Matthews.
Assistant Professor of Obstetrics & Gynecology Phillip Connors, MS, MPH, CGC, said "a one-size-fits-all approach is hard," when referring to the diverse number of masters and doctoral programs in GMS. He spoke about the creation of an Anti-racism Task Force within the Genetic Counseling Program through Graduate Medical Sciences.
Malika Sud, a 2022 genetic counseling graduate, also spoke on "affinity groups" created within the program to help students find a sense of community and belonging while attending BU.
Edward Alexander, a recent School of Public Health graduate, and Clinical Associate Professor of Community Health Sciences Candice Belanoff, ScD, MPH, spoke on "belonging" as an essential part of a student's classroom experience. In her practice, Belanoff strives to undo traditional power dynamics in classrooms by taking actions like allowing her students to address her by her first name.
The day also included time for education-focused poster presentations from faculty, staff and students across the Medical Campus. Toward the end of the day, several faculty members received awards for their work as educators, including Assistant Professor of Microbiology Stephanie Oberhaus, PhD, who will depart BU after 19 years as a highly admired faculty member within the School of Medicine teaching in the dental, medical and graduate schools.
McCahan Day is named for Dr. John McCahan, who served as BUSM associate dean for academic affairs from 1976-2006 and Acting Dean from November 2003-May 2005. He is greatly admired by past and present colleagues for his dedication to advancing modern medical education across BUMC.
Learn more about this year's McCahan Day conference and program here.