Weekly Safe Return to BUMC Update: June 4
Our Building Coordinators, Environmental Health & Safety and Facilities teams have toured each floor of our campus buildings to verify that the required adjustments have been made in accordance with CDC, Commonwealth and University guidance to provide a safe environment for the incremental ramp-up of research activities.
Please remember to carry your BU ID with you to gain building access:
The only entrance to the Instructional (L) building complex, which provides access to the Collamore (C), Evans (E), Housman Research (R) and Conte (K) buildings, will be through the L building lobby.
The access on Evans Way near the Department of Medicine and the other direct entrances to the K building including both street level entrances, and Housman Research (R) building including the Harrison Avenue card access entrance will be closed.
The CABR (W) building at 700 Albany St. loading dock, pedestrian entrances will be restricted to authorized personnel.
A critical component to the resumption of research is personal protective equipment (PPE). Sourcing and Procurement has secured a bulk order of PPE, but for those labs with an immediate need, we have PPE available through our BUMC PPE Supply Center. Please click here for more information on it.
Also this week, we welcomed some of our students back to campus! Our fourth-year medical students began their clinical rotations at Boston Medical Center (BMC). Third-year medical students began a 10-week virtual curriculum May 13 to prepare for their clinical rotations, which will begin Aug. 17. Our PhD students continue their SARS-CoV2 research on campus while other PhD students will begin to re-enter their research labs in the next few weeks. On Monday, June 8, Physician Assistant (PA) students in the Class of 2020 will begin to resume clinical rotations. PA students in the Class of 2020 are finishing the new Public Health Elective via remote learning and the Class of 2022 is in the middle of their first semester via remote learning.
The Henry M. Goldman School of Dental Medicine reopened its Simulation Learning Centers (SLC) on Tuesday, June 2. Predoctoral DMD and DMD Advanced Standing Class of 2020 and the postdoctoral advanced education resident Class of 2020 are returning to the SLC to complete their graduation requirements, followed by the completion of the D2 Preclinical Fixed Prosthodontics classes, as well as simulation sessions for upcoming CDCA examinations. Anyone arriving at GSDM will undergo screening before they can enter the dental facilities, including the SLC.
The next step in the gradual, phased reopening of GSDM is to finalize our application to resume in-person patient care in our dental Patient Treatment Centers, which is expected this week.
As we mentioned in the May 29 update, when you return to the Medical Campus you will see signage on campus on building entrances, in corridors, stairwells, elevators, etc.
Here are photos of the Talbot building entrances.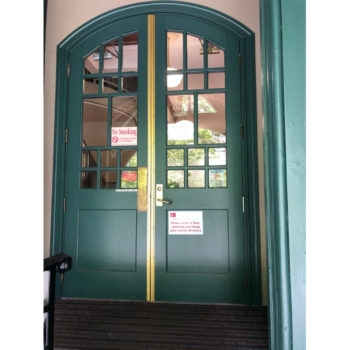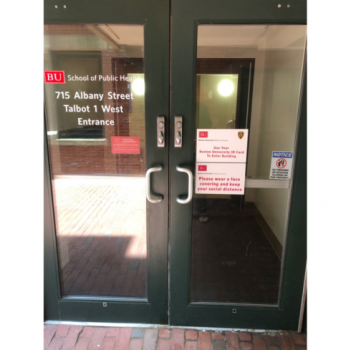 Here are some photos that show examples of signage you will see on our classroom doors advising entrance and exit, and reminding all to wear face covering and observe physical distancing.