Medical Students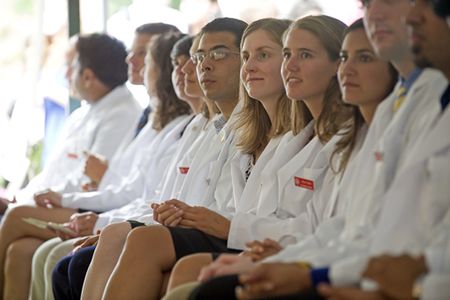 Throughout the Boston University Medical School's academic year our faculty is involved in lecturing to the medical students on various integrative medicine topics. During their third year family medicine clerkship, medical students rotate through the integrative medicine clinic in the Ambulatory Care Center at Boston Medical Center. Dr. Saper directs the Healer's Art elective at the Boston University Medical School.
Web Resources for Medical Students:
CAM on PubMed
CAM on PubMed, a database on the Web developed jointly by NCCAM and the National Library of Medicine, offers citations to (and in most cases, abstracts of) articles in scientifically based, peer- reviewed journals on complementary and alternative medicine. It contains 220,000 citations, has links to full text, and allows searchers to limit retrievals by publication type. Look for the Alerts and Advisories, treatment information, resources, links to other organizations (FDA, AHRQ, ODS etc.).

The National Center for Complementary and Alternative Medicine (NCCAM)
This site offers a wealth of information on alternative therapies, supplements, recent research, and training opportunities. It has live video talks.
Natural Medicines Comprehensive Database
This database offers subscribers information on supplements (i.e. ingredients, interactions, safety), comparison of conventional and alternative approach to treatment of illnesses, CME courses, and daily updates. (for a fee) The Consumer Reports Web site also hosts the NMCD monographs.
Natural Standard
This site is the result of an international collaboration with the aim to provide clinicians and patients with information about complementary and alternative medicine. The site utilizes peer-reviewed and evidence-based information to delegate a well-defined grading scale for therapeutic interventions (for a fee).
Medline Plus (US National Library of Medicine & NIH) CAM
A free resource for information on complementary and alternative medicine. Dietary supplement information is sourced by Natural Standard. Patient information sheets in Spanish.
Office of Dietary Supplements (ODS), NIH
The Office of Dietary Supplements reviews and provides free information on dietary supplements.