Mark Sloan, MD, Accepts Role of Hematology Oncology Fellowship Director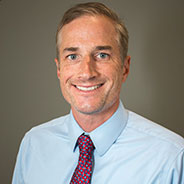 In the midst of all the COVID emails, I am absolutely delighted to share the good news that Mark Sloan, MD, will be taking on the role of Hematology/Oncology Fellowship Director following Dr. Kevan Hartshorn's retirement this fall. Mark is currently an Associate Professor of Medicine at BUSM and has been serving in the capacity of Associate Fellowship Director for the past several years. In this role has become known and respected for his teaching skills as well as for his dedication and support of our fellows. He will bring to the fellowship a broad range of educational experiences, having received his MD and completed a residency at the Yale School of Medicine, and subsequently completed a fellowship in hematology/oncology at Dana-Farber Cancer Institute and Massachusetts General Hospital. As a faculty member in our section he has been a key member of our hematology group and the Amyloidosis Center, and is actively sought after by fellows and faculty alike for his expertise in these areas.
In the coming months, Mark will be working closely with Kevan Hartshorn and Erin McCarthy to ensure a smooth transition for our current and future fellows. We are truly excited that we will have Mark in this new role!