Praveen Govender, M.D.
Faculty and Fellows
---
prgovend@bu.edu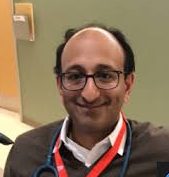 Assistant Professor of Medicine
Introduction:
Dr. Praveen Govender is the Associate Director of the Sarcoidosis Center with training in Pulmonary Medicine, Allergy and Immunology. He has worked closely with Dr. Jeffrey Berman in the care of patients with sarcoidosis since 2008 at The Sarcoidosis Center at Boston Medical Center, a recognized Center of Excellence by FSR (Foundation for Sarcoidosis Research) and WASOG (World Association of Sarcoidosis and Other Granulomatous Disorders). Their mission is to improve the lives of persons with sarcoidosis by providing state-of-the-art patient care coupled with innovative research aimed at understanding the pathogenesis and natural history of sarcoidosis.
PUBLICATIONS:
Please see BU Profile for complete publications list