Raymond C. James, RN, BS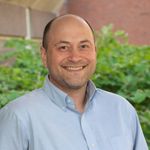 Office

Department of Neurology, BUMC

Email

rcjames@bu.edu

Phone

617.638.7745 (Fax: 617.638.5354)

Education

Bachelor of Science in Biology, with a minor in Chemistry and a Premedical concentration, from Gordon College in 2002,
Associates Degree in Nursing from North Shore Community College
Clinical Care
Raymond James, RN, BS, is a nurse specialist in the Parkinson Disease and Movement Disorder's Center at Boston University Medical Campus. As a nurse since 2009, he has been involved in the care of patients with Parkinson's, Huntington's, and other movement disorders including Essential Tremor, Progressive Supranuclear Palsy, Corticobasilar Degeneration and Multiple System Atrophy.
Research
Ray has worked in the Movement Disorder field of Neurology since 2005, assisting and managing over 30 clinical trials. He is a member of the Parkinson's Study Group (PSG) and Huntington's Study Group (HSG), both organizations work to collaborate on a variety of important observational and interventional research studies. Ray is a lead coordinator and Steering Committee member of the biomarker study, Parkinson Progression Markers Initiative (PPMI), which is an international multicenter observational study supported by the Michael J. Fox Foundation. Ray is a leader on the PPMI clinical trial Coordinator Council and Mentorship Program advising other coordinators and researchers on the conduct of this clinical study.
Ray has been an author on a number of articles on Parkinson's disease and Huntington's disease. His research interests include understanding racial disparities in Parkinson's care and research, as well as studies that focus on evaluating new therapies in Parkinson's and Huntington's diseases.
Community Outreach & Teaching
Ray has worked closely with the American Parkinson Disease Association (APDA) as a support group leader on the North Shore of Boston. He has participated in over 50 presentations and webinars to professional and lay groups. He regularly speaks to support groups and educates health care professionals about PD and HD.  He has been an instructor for the Parkinson Foundation Edmond J. Safra Visiting Nurse Faculty Program at BUMC. He is also a faculty member of the Parkinson Foundation online nursing course. Ray is also faculty for the ECHO-HD Project, a webinar-based program working to educate healthcare professionals on Huntington's disease. He has attended and presented at the biannual New England Regional Parkinson Disease Symposium for patients and families over the last 5 years and has presented for the APDA PRESS Program for newly diagnosed individuals.
Professional Affiliations
Ray is a member of the American Association of Neuroscience Nurses.