Cathi A. Thomas, MS, RN, CNRN
Assistant Professor of Neurology, Program Director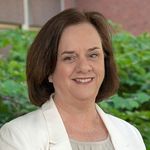 Title

Assistant Professor of Neurology, Program Director

Office

Department of Neurology, BUMC

Email

neurocat@bu.edu

Phone

617.638.7737 (Fax: 617.638.5354)

Education

Bachelor of Science in Nursing from Boston State College in 1979
Master of Science in Nursing from Boston University School of Nursing in 1987
Clinical Care
Cathi Thomas, MS, RN, CNRN, is an Assistant Clinical Professor of Neurology and Program Director of the Parkinson Disease and Movement Disorder's Center at Boston University Medical Campus (BUMC). She has dedicated her career to improving the lives of people living with Parkinson's disease. As a Clinical Nurse Specialist in Neuroscience, she has developed novel programs to assess the impact of Parkinson's disease and most importantly deliver evidenced based and highly individualized care to patients and families. She has co-authored Parkinson's Disease A Guide to Patient Care.
Research Interest
Cathi's research activities have included participation in over 100 clinical studies. She is an active member of the Parkinson Study Group (PSG) and has previously served on their Scientific Review Committee, Executive Committee, and Credentialing Committee. She was a co-investigator in a NIH-NIA study "Self-Management in Parkinson's Disease." This work examined the role of exercise and education on quality of life. Positive results of this study have led to the ongoing development of "Wellness Exercise Programs" in New England. She is currently a co-investigator in the NIH study "Social Self-Management in Parkinson's." During the past decade she has served as site co-coordinator of the Parkinson Progression Biomarker Study (PPMI) a multisite observational study funded by the Michael J Fox Foundation. She has been a reviewer for several journals including Geriatric Nursing and has authored over fifty publications.
Community Outreach & Teaching
As Program Coordinator of the American Parkinson Disease Association (APDA) Information and Referral Center at BUMC, she has participated in over 250 presentations to professional and lay groups. She regularly speaks to support groups and educates health care professionals about PD. She has facilitated local and national conferences for the APDA and American Association of Neuroscience Nurses. She is the Course Director for the Parkinson Foundation Edmond J. Safra Visiting Nurse Faculty Program at BUMC. She has been instrumental in creating the APDA New England Regional Parkinson Disease Symposium for patients and families presented biannually for the past thirty years. Working with an inter-professional team she has developed APDA's Parkinson Good Start program, APDA's PRESS program, Carepartner Support series, and health professional training programs delivered regularly across the region.
Professional Affiliations
Cathi is a member of the American Association of Neuroscience Nurses, International Parkinson and Movement Disorders Society, and Sigma Theta Tau International Nursing Honor Society. She is an advisor to the APDA MA Chapter and Cape Cod Parkinson Support Network, APDA branch. Cathi is a past recipient of the Salvatore A. Esposito, Sr. Coordinators Award and the American Parkinson Disease Association National Service Award. In 2017, she received the Shawn Thornton Award for Excellence in Service to the Parkinson Community. In 2019, she received the Maryann Garrigan Award Theta at-Large Chapter of Sigma Theta Tau.